When shopping for a new TV, it's common to see many options that seem similar. In a store, there may be a wall of TVs that are hard to distinguish. Online, there may be countless listings for TVs that look the same. It can be challenging to find a TV that stands out and seems superior to the others. The Samsung Serif TV is a unique option that stands apart from the competition. It's different and is willing to be different. If you're looking for a TV that's a bit more special, the Samsung Serif may be the right choice for you.
In addition to its impressive design, the Samsung Serif also has great versatility. It can serve as the main TV in a room and bring the space together, or it can be used as a secondary TV that can be easily moved around without being an eyesore. Additionally, its unique design makes it stand out among other TVs. If you're looking for a TV that adds style and function to your home, the Samsung Serif is a top choice.
Samsung Efforts
Let's examine the unique features of the Samsung Serif TV more closely to fully understand what it has to offer. Samsung has made the Serif and the Frame stand out with innovative features. The Serif has become more appealing due to these impressive offerings after several years of development. If you want a TV that's different from the rest, the Samsung Serif is worth considering.
The Unique Features of the Serif Explained
If you're considering the Samsung Serif TV, it's likely that its unique features caught your attention. While we'll discuss the TV's standard features, such as image and sound quality, smart TV capabilities, and other common details in the next section, let's first take a look at what sets the Serif apart from other TVs. If you're interested in a TV that offers something different, the Samsung Serif may be the perfect choice for you.
How Does The Design of the Samsung Serif TV Helps it Blend In?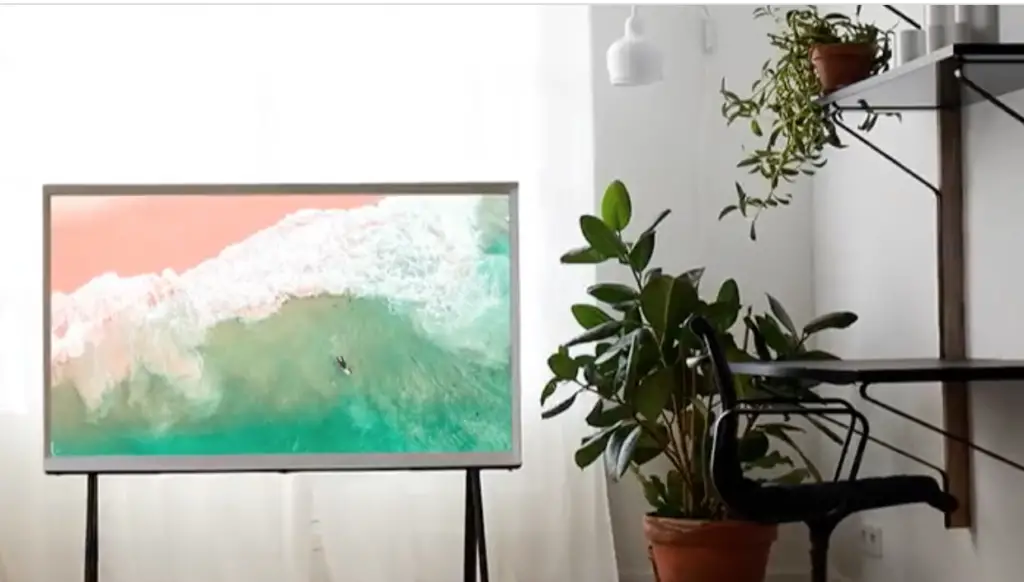 It's important to mention the Serif's unique design before discussing anything else. The Serif may take some getting used to for those who don't normally think of TVs as design pieces. The metal legs give the Serif a somewhat easel-like appearance and it's not immediately clear where or how it should be used. However, you'll appreciate its ability to blend in with its surroundings and add a touch of style to your home once you get used to the design.
The Samsung Serif TV (On Amazon) is not meant to be placed in traditional locations like above a mantle or on an entertainment center. Its unique design was inspired by the term "serif," which refers to certain features in fonts. While it can be placed in these locations, the Serif is meant to be used in a different way. It's designed to blend in with its surroundings and add a touch of style to your home.
When viewed from the side, the shape of the TV is easy to see. It has an I-like form. Most TVs try to be thin, but this one is thick and stands out. It is several inches deep and doesn't follow the trend of other TVs being thin. This may be surprising when viewed from the side.
The Serif's design includes a unique feature: a shelf on top. This allows you to display the unit and make it blend into the room. This is one way the Serif accomplishes this.
Ends of the "I" shape are wide and this is also seen at the base of the unit. The metal feet can be removed, giving a flat, stable base for the TV to sit on a mantle or entertainment center.
The Serif does not have a traditional TV stand. When placed on a flat surface, it can blend in with the furniture. Ambient Mode can further enhance this effect.
Cable Management of the Serif TV: A Plus In Elegance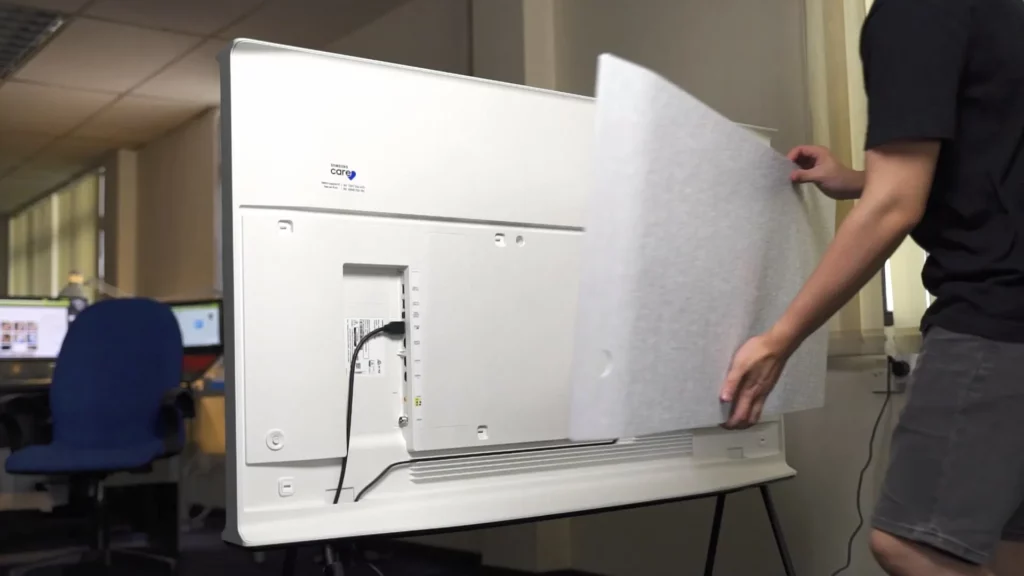 Many TVs have cable management features, such as the Samsung Frame series and some other high-end Samsung models. These TVs transfer input/output to a separate box that is easier to hide.
The Serif's cable management helps reduce the length of the power cable. Other TVs transfer input/output to a separate box to solve this issue, but the Serif does it by helping you shorten the power cable.
The back of the unit has a white panel that covers the cables and has curved edges. At the bottom, there are grooves that are noticeable when looking at the back.
This solution helps you neatly wrap the power cord to the desired length. It is a straightforward and low-tech method, and it allows you to easily adjust the cord's length without needing anything complicated.
This solution helps you achieve the perfect length for your power cord, so you can run it to the ideal spot and try to hide it effectively.
In addition, the Serif includes a conduit that attaches to one of its legs, enabling you to manage one or several cables rather than letting them hang out behind the unit.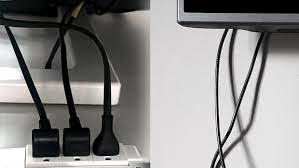 The Best Of Serif TV Aspects: Portability And Versatility
This is not a feature that is advertised or promoted by Samsung for the Serif. If you read the product page, Samsung does not recommend using it in this way.
The Serif is designed to blend into a specific space and is usually placed in one location. However, I discovered that it is not too heavy and can be easily moved around with its wide base and top. This makes it convenient to relocate.
I realized that the Serif is easy to move and can be temporarily placed wherever you want. Its metal legs and flat base allow it to take its "mounting" system with it, making it different from flat panel TVs that need to be mounted on walls or traditional TVs with separate stands. The Serif can easily be placed wherever you desire.
The Serif's ease of movement allows you to use it temporarily in different locations, such as on the porch during summer nights or in the bedroom for movie night. This is much easier than using a portable projector, which requires setting up a large screen.
Consider the TV you currently have at home. If you want to move it to a different location, what is involved in doing so and replacing it? For me, the ease of movement of the Serif became a standout feature. I didn't realize how much I wanted this until I had the TV and was able to test out different locations for it.
Typically, you have to decide on the permanent location for your TV upfront. However, the Serif does not follow this rule and allows for more flexibility in its placement.
Ambient Mode and NFC Standout Features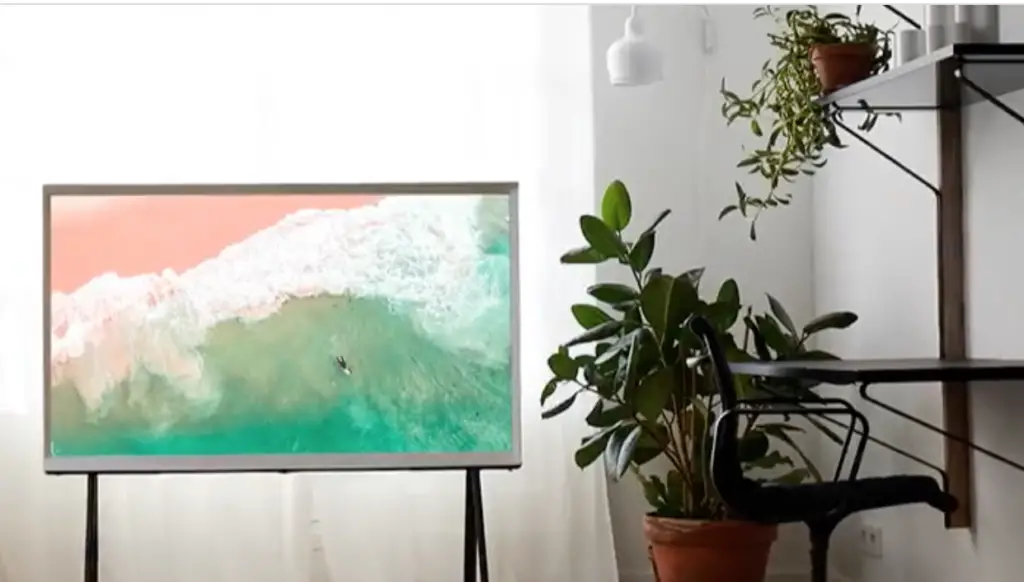 This unit has some special software features that make it stand out. One of these is Ambient Mode, which has its own button on the remote. When activated, it displays the screen in a way that is similar to the Samsung Frame Series or other devices connected to Chromecast. The screen stays on display even when the unit is not in use. This feature is called Ambient Mode.
The Serif's Ambient Mode is similar to the Samsung Frame Series and Chromecast, but it goes a step further by adding motion and allowing you to control the colors. These features are not available on Chromecast or the Frame, which only display static images. Ambient Mode is a unique feature of the Serif that enhances the display when the unit is not in use.
Ambient Mode and NFC Standout Features
You can set the background to a solid color so it blends in with the wall, or you can select one of the motion modes that look visually appealing. For instance, the spinning blocks mode is hard to capture in pictures, but it looks great to the eye. These options make it easy to customize the Ambient Mode display.
The motion modes add a visually appealing element to the display, such as tilting blocks. In this example, the blocks are gold, grey, and red, but you can change the colors to match your space and make the unit blend in more. These options make it easy to customize the Ambient Mode display.
There are many Ambient Mode backgrounds to choose from, including both static and motion options. You can adjust the colors to match your space and make the Serif blend in when in Ambient Mode. There are detailed color control options available to customize the display.
The unit has NFC pairing on the top. This allows you to easily connect your Android phone to the unit by placing it on the top shelf and streaming music through the speakers. This is a clever and unique feature, although it may not be a major game-changer.
The unit has a nice little tech feature that uses the top shelf. This makes it easy to access and interact with the unit in a limited way. It's unusual to have these features in a TV, but the Serif handles it well.
Ordinary Television Features of the Serif TV
But how does the Serif perform with the basic features like watching TV? Does it offer good quality?
Image And Sound Quality Of The Serif TV
The Serif has a 4k resolution and QLED panel, which are standard features at this price point. The TV's panel produces bright, vibrant colors and deep, dark blacks.
The color and contrast of the Serif are excellent. There's nothing else to say about the image quality, as it is just as good as any other panel in this price range. You don't need to worry about it.
This TV has good sound quality, with clear audio at high volumes. The built-in speakers often become messy at high volumes, but this unit performs well for both movie-watching and streaming audio.
Image & Sound Quality Of The Serif
This TV's built-in speakers are better than what you usually find on television, although they are not as good as a standalone soundbar. They are still good enough. Note that this TV is not designed for adding a soundbar, and this fact is reflected in the design.
Samsung provides some smart software features built into the TV, such as Adaptive Picture, which adjusts color and resolution based on ambient light, and Active Voice Amplifier, which enhances dialogue in noisy rooms.
During my testing, I didn't notice these features in operation, but I also didn't notice any lack of them. They might have been improving the experience a bit, but I didn't have to think about them or notice them, which is what you want.
Remote Control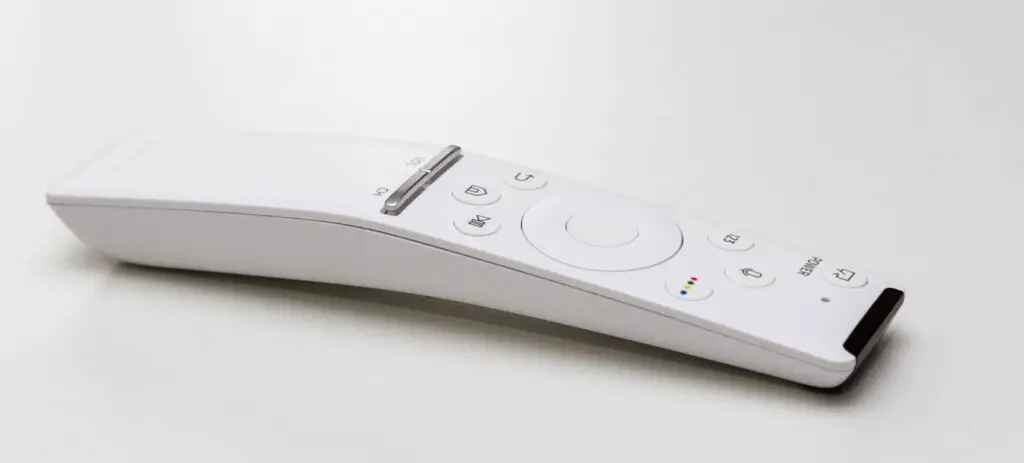 The Samsung remote that has been shipped in recent years has many great features. The Serif model includes a special button for Ambient Mode and buttons for streaming services at the bottom. These features are not only available on the Serif model, but also on other updated Samsung remote models.
At first, I used the regular TV menus to access Netflix and Prime because I was used to it. But once I remembered the special buttons on the remote, I realized that the other TV's remote didn't have them and I missed having them.
The remote is simple and easy to use. It's just enough technology without anything complicated. It helps you navigate and control the smart TV features.
If you lose your TV remote or your pet chews it up, you can use your smartphone as a replacement with the Samsung SmartThings app. We have an article about this and it's a useful feature to have.
Smart-TV Features & Input/Output options
The software on the Serif is easy to use if you have a Samsung or other smart TV. Samsung has mastered the operating system, so there was no need to change it. The hardware design is also excellent.
The Serif TV has many apps and streaming services available, including Apple Airplay 2 and android screencasting, which let you stream from most devices.
The Serif TV has smart assistants like Alexa, the Google Assistant, or Bixby built-in. This adds to its smart features.
The Serif TV has Alexa and Google Assistant built-in, which is convenient for interacting with the TV. Although Bixby is not as popular, it's still an option.
You can use Alexa or Google Assistant to change the channel or pull up photos with the Serif TV. The remote has a button to activate the microphone, so you're not constantly being monitored like with other voice assistants.
The Serif TV has many I/O ports, so you won't run out of space to plug in your devices. It's easy to keep your setup simple and minimize cables by using a Chromecast Ultra or similar device. The Serif TV's cable management system is flexible and can accommodate any setup you have.
Does the Serif Worth its price?
To decide if the Serif is worth the price, consider the two models: 43 inches and 55 inches. The 55-inch is good for a big living space, but it's less portable and versatile. The 43-inch may be a better choice if you want a TV that's easier to move around.
The 43-inch and 55-inch models of the Serif are stylish and a good value at their price points. They have all the features of a high-end smart TV, as well as unique design elements that you can't find elsewhere.
Your home decor will not stand out like a black rectangular monolith when the Serif TV is not being used because it is designed to fit in with your home decor. No other TVs have this feature.
If you can afford it, the 43-inch Serif TV is worth the price. It's best used as a secondary TV that can be moved around easily.
The 55-inch model of the Serif TV may not work for everyone as the main TV in their house. It may be too stylish for some people's homes.
If you only want a 55-inch TV and don't care about design, the Serif may not be the right fit for you. It's more expensive than other options that only offer a screen.
Final Words
Even if you don't want a TV with a fancy design, the 43 inch Serif is still a good choice for a secondary TV because of its portability and versatility. It offers unique features and can support special uses that other TVs can't. This is why it's the best second TV to buy. It may not be the best primary TV for everyone, but it's a good value for a second TV.