Understanding the various sound standards and optimizing your audio quality can be a daunting task. To start with, it is crucial to ensure that you are using HDMI ARC with your soundbar. HDMI ARC, which stands for Audio Return Channel, simplifies your setup by requiring only one HDMI connection from your TV to your soundbar, with all other HDMI connections running to the TV. So how HDMI ARC works with soundbars? And how to determine if your soundbar is equipped with HDMI ARC?
To determine if your soundbar is equipped with HDMI ARC, you can quickly check, and most modern units come with this feature. However, your TV must have an HDMI ARC port, and you will need to perform a simple setup to ensure proper functionality. Now, let's delve into the details of how HDMI ARC works.
By using HDMI ARC, the soundbar can receive audio signals from your TV without requiring additional cables. This reduces clutter and simplifies your setup. The technology works by sending audio signals from your TV to your soundbar using the same HDMI cable that transmits video signals from your soundbar to your TV.
HDMI ARC is an essential feature that simplifies the connection between your TV and soundbar, and most modern soundbars come equipped with it. Checking for HDMI ARC compatibility and following a simple setup procedure will ensure optimal audio performance.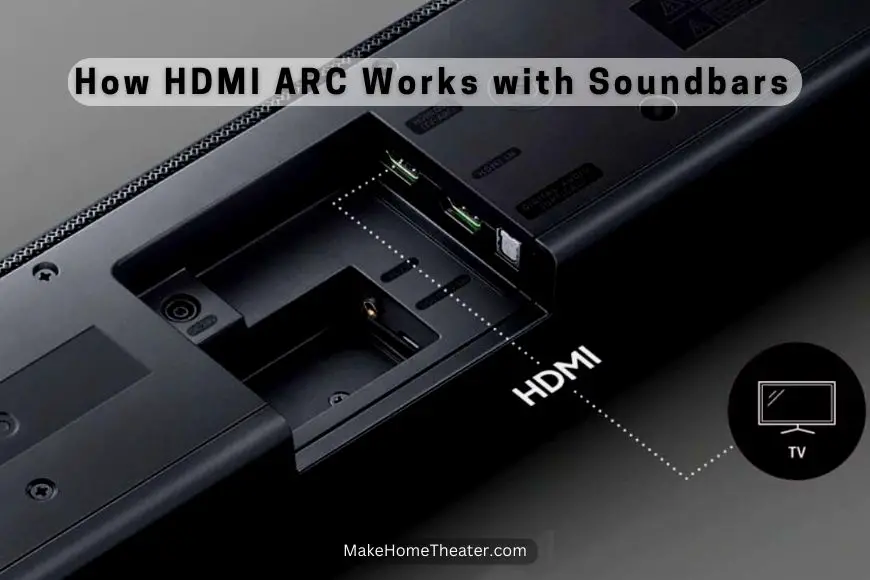 Read Also:
What is HDMI EDID? All you Need to Know,
Is it Possible to Use An HDMI Splitter On A Fire TV Stick?,
HDMI with Ethernet: What is it and How Does it Work?,
Are HDMI Switches Useful and What Exactly do They Do?
How HDMI ARC Works
In simple terms, HDMI ARC enables two-way communication between your home theater equipment, utilizing the "Return Channel" on the HDMI cable. This results in a reduction in cables, and more advanced control as there is no need to connect a separate audio cable from the TV to the audio equipment.
Moreover, with HDMI ARC, you can use a single remote for your entire setup instead of multiple remotes for your TV, receiver, and other equipment. This feature is also available with eARC, which stands for "enhanced" Audio Return Channel, and offers additional functionality.
How HDMI ARC Works with Soundbars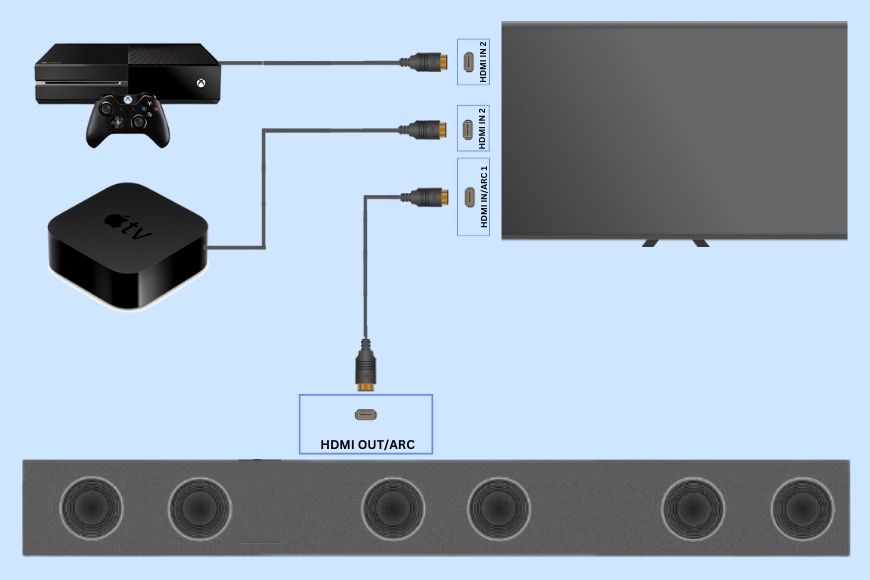 Connecting your soundbar with HDMI ARC is a straightforward process, as long as your equipment supports the standard. The first step is to check the HDMI ports on the back of your TV to ensure they are labeled with "ARC" or "TV-ARC." Next, you need to verify that your soundbar is equipped with HDMI ARC, which can be done by locating the ports on the back of the device and looking for the "ARC" label. It is crucial to use the specific ARC ports to connect your TV to the soundbar.
When it comes to the cable, any HDMI cable manufactured after 2009/2010 should suffice. So, there's a good chance that you already have an HDMI cable that will work. Lastly, you need to change one setting on your TV to enable CEC, which can be found in the audio options under settings.
To ensure optimal functionality, you need to connect all media equipment such as a game console, receiver, or streaming stick to the HDMI ports on the TV that are not being used by the "ARC" connection. The TV will route the audio from all of these sources to the soundbar correctly, eliminating the need for direct connections to the soundbar, except for the TV.
How Common is HDMI ARC on Soundbars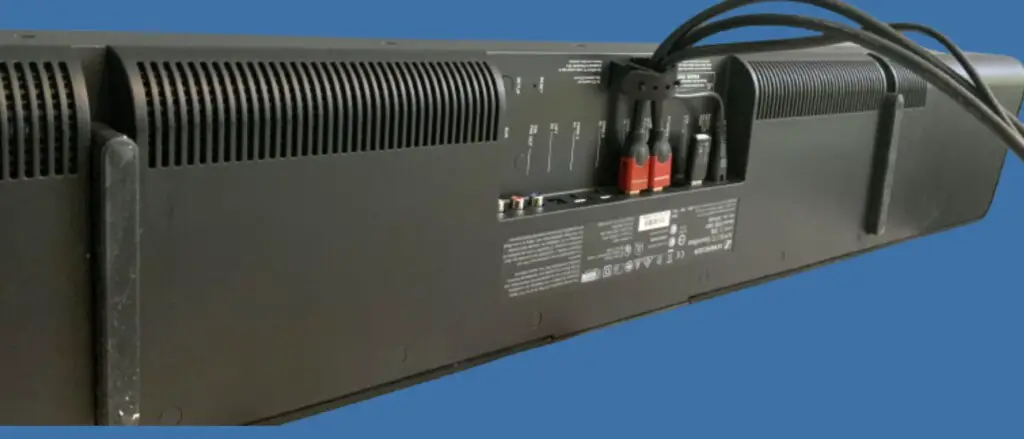 After understanding the benefits of HDMI ARC, the question arises whether it's common on soundbars and how expensive it is. Unlike the widely used HDMI standard, HDMI ARC and its enhanced version eARC are not yet prevalent in the soundbar market. Some popular soundbars, including those from Vizio, TaoTronics, and Bose, do not have HDMI ARC.
Fortunately, technology is becoming more widespread in the industry, and there are plenty of options available. For those on a tight budget, the Monoprice SB-200 Premium Slim Soundbar (available on Amazon) is a good low-cost solution with HDMI ARC included. A good mid-range upgrade would be the Sonos Beam (available on Amazon), which comes from a trusted brand name and has HDMI ARC.
For those who are willing to spend more for truly cinema-quality sound, the Nakamichi Shockwafe Ultra (also on Amazon) is the ultimate choice, as it comes with HDMI eARC. If you want to learn more about this unit, make sure to read our review before making your purchase decision.
Cons of Using HDMI ARC with a Soundbar
Despite its advantages, HDMI ARC is not without its flaws.
Cons of HDMI ARC
Secondly, HDMI ARC is not capable of handling higher-end audio formats such as Dolby Atmos or DTS:X, and this applies to soundbars with more than 5.1 channels as well. This means that if you have a more advanced soundbar or home theater system, you may need to consider alternative options. However, the enhanced Audio Return Channel (eARC) does address this limitation by supporting 7.1 channel surround sound and higher-end audio formats like Dolby Atmos and DTS:X.
When You Should be Using the HDMI Inputs on a Soundbar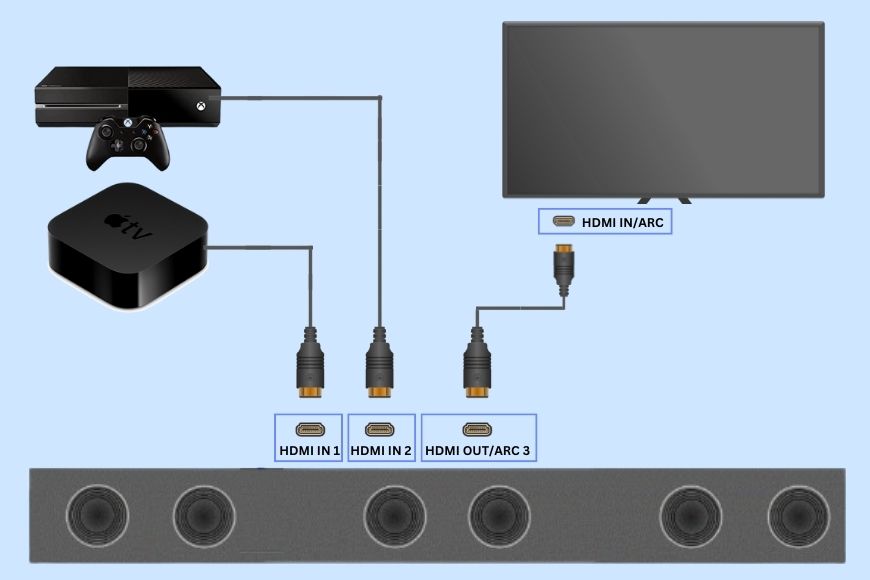 Using HDMI ARC is not always the best option, especially when dealing with media that supports more than 5.1 channels. In such cases, it is better to connect the media cable directly to the soundbar's HDMI port.
Although this might seem like a regression, you can still benefit from the ARC standard by connecting the media device to the soundbar through its HDMI port, while keeping the TV and soundbar linked through an ARC connection. This approach minimizes cable clutter and remote control usage, while enhancing the sound quality.
Is eARC Worth the Investment for High-Quality Audio?
If you're familiar with HDMI ARC, you may have heard of its enhanced version, HDMI eARC. As the name suggests, eARC provides an even more advanced data transfer speed that supports higher quality audio formats like Dolby Atmos and DTS:X.
However, the adoption of eARC in the industry is still lagging behind. Currently, only a few high-end units, such as the Shockwfe Ultra, support eARC. Additionally, keep in mind that your TV must also support eARC, which can add to the overall cost of your system.
It's worth noting that you'll likely need to purchase an HDMI 2.1 cable to connect these eARC connections, which makes it a more expensive option for now. While soundbars are likely to eventually adopt ARC and even eARC as a default, it may take several years for this technology to become mainstream.
To Sum Up
In simple terms, HDMI ARC streamlines the setup of soundbars by providing a return channel through the TV. This eliminates the need for extra cables and simplifies remote control. Therefore, when selecting a soundbar and TV, it's important to prioritize HDMI ARC or the advanced HDMI eARC standard, if you want an easy sound management setup.
By utilizing HDMI ARC, you can enjoy improved audio quality without any complicated installation procedures. This technology allows you to control your sound system with a single remote, making it easier to manage your entertainment system. Additionally, HDMI eARC provides enhanced capabilities such as support for high-resolution audio and other advanced features.
In conclusion, HDMI ARC and HDMI eARC are crucial specifications that should be considered when purchasing a soundbar and TV. These features simplify your audio setup, providing a seamless audio experience. Whether you're a tech-savvy individual or not, utilizing these technologies is a no-brainer for an easy and convenient audio management experience.
Related Q&A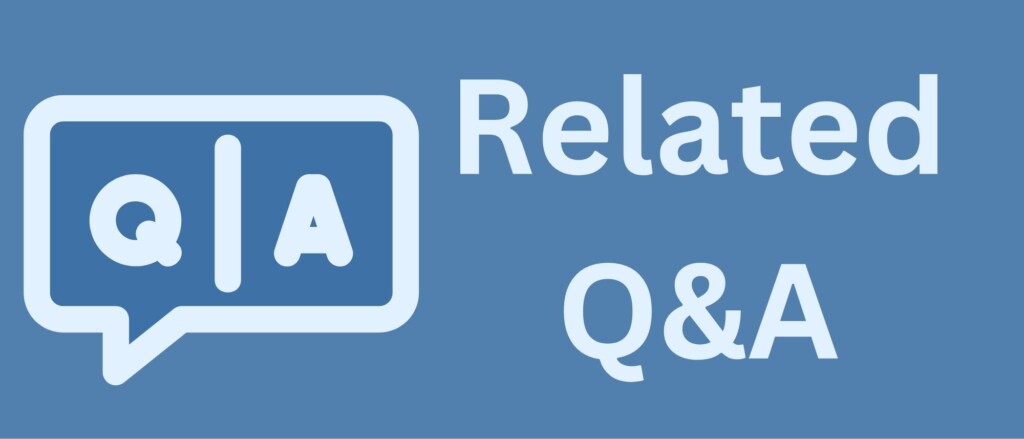 How does HDMI ARC work with soundbars?
You need to connect your soundbar to the HDMI ARC port on your TV and make sure your soundbar has an HDMI ARC port as well.
Can you use a single remote with HDMI ARC?
Yes, you can use one remote for your entire setup.
What should you connect to your TV instead of your soundbar?
All of your media equipment, such as game consoles, receivers, or streaming sticks, should be connected to your TV.
How common is HDMI ARC on soundbars?
It is not yet widely diffused through the soundbar industry, but there are many options available.
What is the disadvantage of using HDMI ARC with a soundbar?
HDMI ARC is limited in the number of speaker channels it can support.
What is the maximum number of channels that HDMI ARC can support?
HDMI ARC can serve audio to a maximum of 5.1 channels.
What happens to soundbars with more than 5.1 channels?
HDMI ARC will limit the soundbar's channels.
Does HDMI ARC support Dolby Atmos or DTS?
No, HDMI ARC does not support Dolby Atmos or DTS.
What are the benefits of using HDMI ARC with a soundbar?
Fewer cables and advanced control, and you can use a single remote.
What should you look for on the HDMI ports of your TV and soundbar?
Make sure they are labeled with "ARC" or "TV-ARC."
What setting do you need to change on your TV for HDMI ARC to work?
Go into settings and find the audio options, then make sure that "CEC" is "Enabled."
Can you use HDMI ARC with any soundbar?
No, your soundbar must have an HDMI ARC port.
---
Latest Posts