In-Ceiling speakers are a good option for home theater lovers. They take up less space and provide a balanced overhead sound. However, the In-Ceiling speaker size is important and the installation is more complex, so it's important to choose the right one from the beginning.
What size ceiling speakers should you get? For home theaters bigger than 225 sq ft, get 6-8 inch speakers. For rooms under 100 sq ft, 4-6 inch speakers should work.
Here, I'll explain the three most common sizes of ceiling speakers and what affects which one is right for you. If you're new to ceiling speakers, you may want to read our other articles on using amplifiers with them and whether or not you need a backbox.
In-Ceiling Speaker Size: Differences The Sizes
Before I talk about what to consider when picking the right size of the in-ceiling speaker, it's important to know the main differences between them. Smaller speakers like the Herdio 4 inch (on Amazon) can be easier to hide, but larger ones like the KEiiD 8 inch (on Amazon) will give a stronger, room-filling sound.
In-Ceiling Speaker Size: 4-Inches (Or Smaller)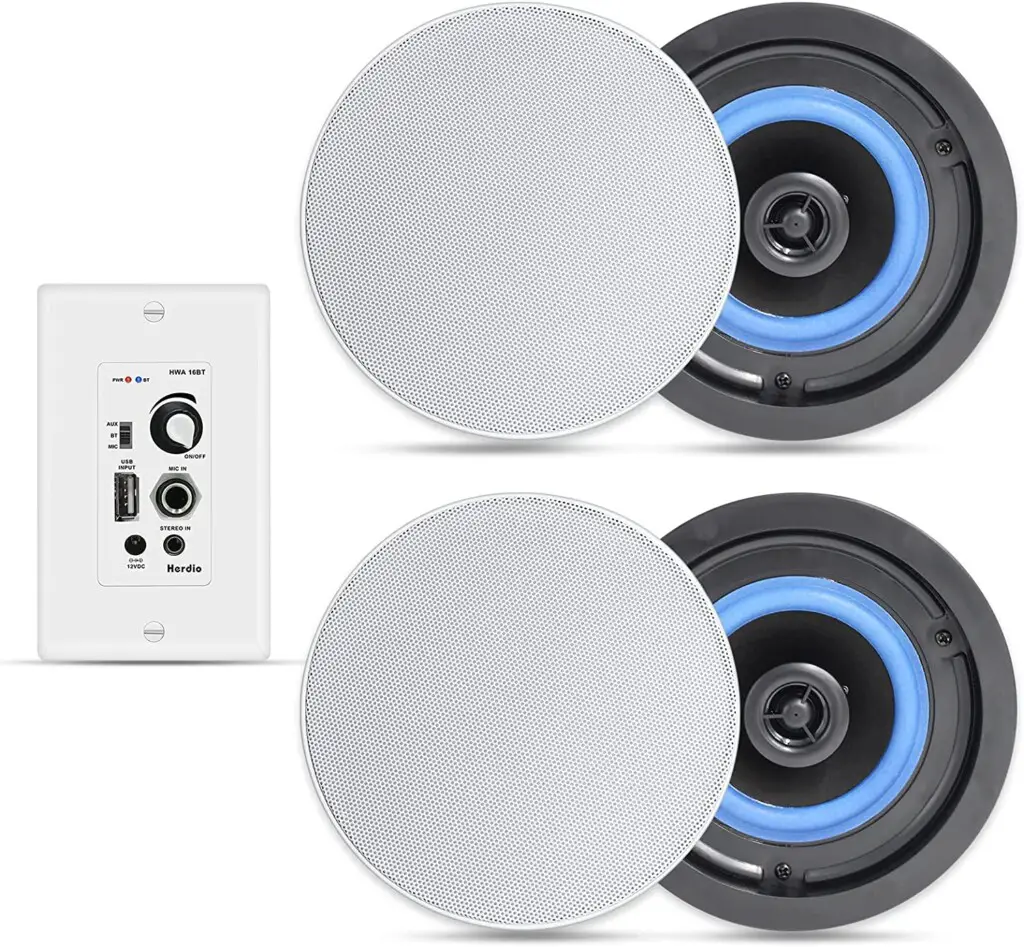 Smaller 4-inch or less ceiling speakers are easier to hide and often a top choice when looks are important. However, they also tend to be weaker and may not produce good lower and middle frequencies, making them best for small rooms or areas not used for entertainment often. They're usually the cheapest option and fit well into tight budgets.
In-Ceiling Speaker Size: 6-Inches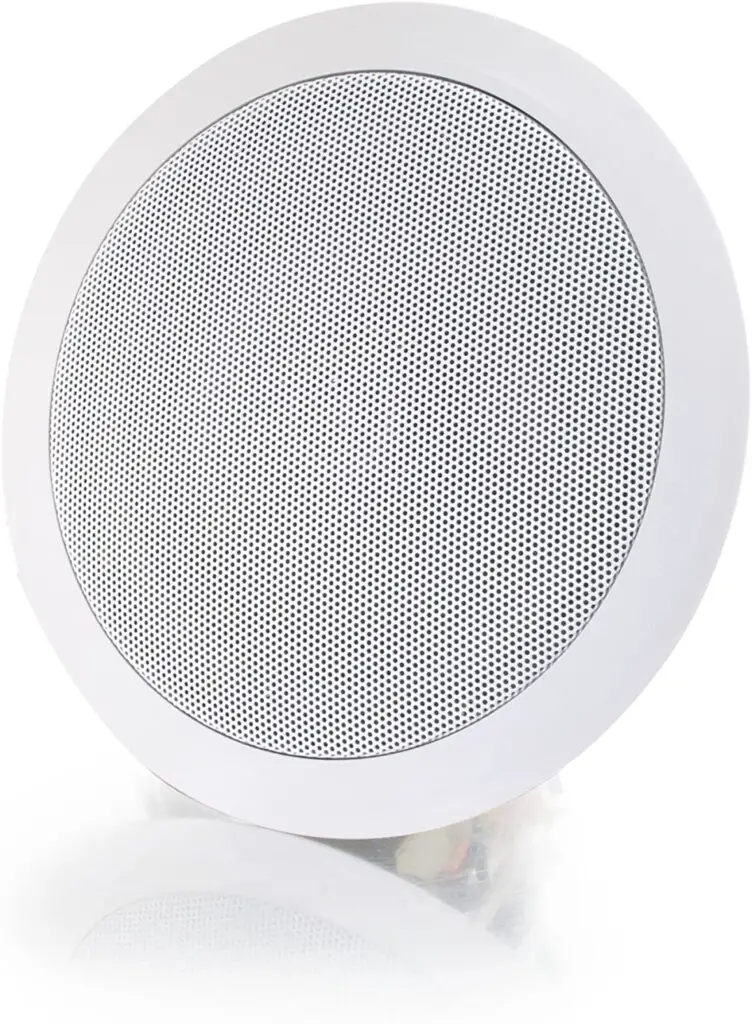 For the best all-around sound, 6-inch ceiling speakers are usually the most popular. They can be flush mounted without distracting viewers below and have some of the best sound on the market. They're good for home theater surround sound or background music and offer the best value without sacrificing sound.
In-Ceiling Speaker Size: 8-Inches (Or Larger)
Well-known 8-inch or bigger ceiling speakers often have the deepest bass and best audio range overall. But pay attention to the quality of the amplifier you pair them with – you need a good one to get the most out of the speakers. These tend to be more expensive and more noticeable when installed, which can sometimes ruin the look of a room.
What to Consider when Choosing In-Ceiling Speaker Sizes?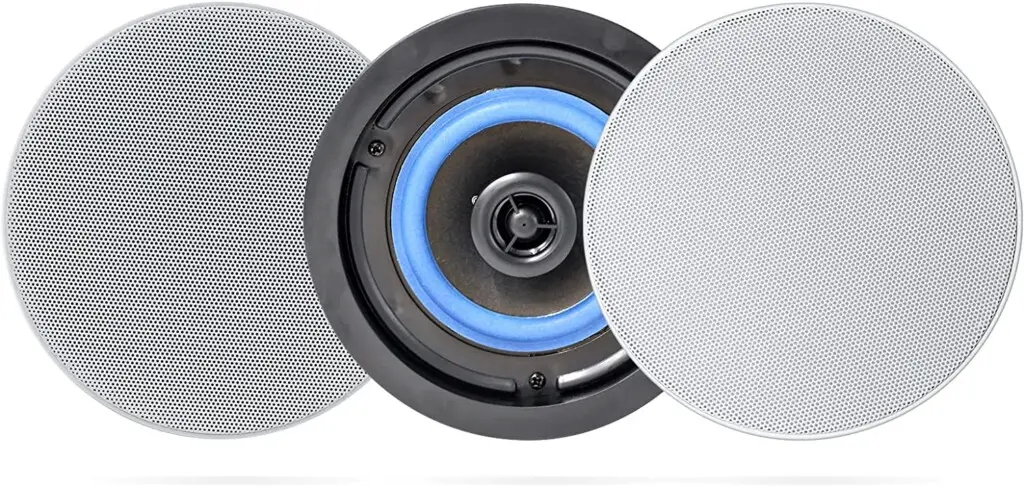 Bigger speakers often have more power, but there are several things to think about before buying one. Make sure to consider all factors before making a decision.
1- Room Size
The size of your room and the height of the ceiling affect the size and number of speakers you need. Larger rooms or those with high ceilings may need bigger speakers and a subwoofer, since space can distort sound, especially at high volume.
For rooms under 100 sq ft, a pair of the right size speakers may be enough. Larger rooms over 225 sq ft usually need two or more pairs of speakers. But what about rooms between those sizes?
If you go for the next size up, one pair of ceiling speakers may be enough. But if you prefer smaller speakers, it might be better to get two pairs for a more even sound.
2- Single Stereo vs Standard Mono
In-ceiling speakers come in single stereo or standard mono versions. Standard mono speakers have one tweeter and one bass driver. When connected to a receiver, left and right sounds go to the left or right speaker independently.
A single stereo speaker has a left and right tweeter and a bass driver, so it can stream both left and right sounds.
Most experts recommend standard mono speakers for rooms over 100 sq ft and single stereo speakers for smaller rooms like a small bedroom.
Standard mono speakers work well in pairs because each stream coordinates sounds separate instead of mixing left and right from one source.
3- Round vs Square Speakers
Where you put your ceiling speakers also affects the size you need. If you want to put one pair of large speakers in the middle of a room, that may be enough.
But if you want smaller speakers or need to fill an oddly shaped room, you may need multiple sets. Large speakers in an L-shaped room may not give even sound, while multiple sets of smaller speakers may provide the surround sound you want.
4- Primary Purpose
What you'll use the speakers for also affects their size. If you mostly want them for background music, smaller speakers can work. But for true surround sound, you'll need speakers that pack a punch.
These are often 6- and 8-inch speakers. They often have better quality drivers that let the dynamic tones in home theater applications sound accurate.
5- The Multi-Channel Capabilities
If you're setting up in-ceiling speakers in a multi-channel system, you need to consider the quality of all components. If you're using them with wall-mounted or floor models, the sound quality should be similar.
This might mean 8-inch speakers are too strong for your system and smaller speakers will give a more even sound. If your ceiling speakers are louder or quieter than your other speakers, it can ruin the desired surround sound.
6- Power Source
Your speakers' power source is also important. Bigger ceiling speakers need more power (we'll explain more in our guide). If your receiver or amplifier can't provide the necessary power, your speakers won't work well (or at all). If you don't want to upgrade your receiver, you'll need to get speakers that work with it.
7- Required Ceiling Space
Different ceiling speakers need different installation spaces, like in vehicles (we'll explain more in our guide). For example, one of the slimmest on the market needs a mounting depth of 33 millimeters (mm) and a cutout 196mm in diameter.
But another model of similar size needs a depth of 250mm. When mounting a speaker in your ceiling, you'll need to consider the space available for the whole box.
Last Words
In-ceiling speakers are a popular choice for home theater enthusiasts because they reduce the speaker setup's footprint and provide a more even listening experience. They require a more thorough installation process, so it's important to choose the right one from the start.
Speaker size depends on room size: for rooms over 225 sq ft, use 6-8 inch speakers, for rooms under 100 sq ft, use 4-6 inch speakers.
Consider the purpose of the speakers, the power source, the installation space, and whether you want a single stereo or standard mono. Larger speakers have deeper bass and a wider audio range, but smaller ones are easier to hide and cheaper. Choose a reputable brand and pay attention to the quality of the amplifier.
Latest Articles: