Soundbars With HDMI eARC have become widely available and are now a feature worth considering for a premium soundbar. Upgrade your system and get the best quality sound by choosing a soundbar with eARC. Future-proof your home audio system now.
Here is our list of the best 7 eARC Soundbars:
This list is arranged by price, from lowest to highest. If you're on a budget, consider saving up for the Sonos Arc or Bose Soundbar. Our review of the Sonos Arc shows that it's a great investment. If you want to see more options, read our notes on these eARC soundbars below.

The Sonos Arc soundbar (on Amazon) is impressive with 11 built-in amplifiers and 11 drivers. It provides excellent sound quality for its price and has eARC. If you want to spend more, you can't go wrong with any of these manufacturers, but the Sonos has something extra to offer.
And it has an easy-to-use app and connects seamlessly to other Sonos speakers. It also works well with home theater systems like TVs and projectors. Other options may not have the same flexibility.
| Pros | Cons |
| --- | --- |
| Great value with top-quality hardware and powerful sound that fills the room. | Sound quality may be lower at the lower end. |
| Access to the Sonos ecosystem with the option to expand the system later on. | The Android app is not as comprehensive as the iOS version, but still better than most other manufacturers' apps. |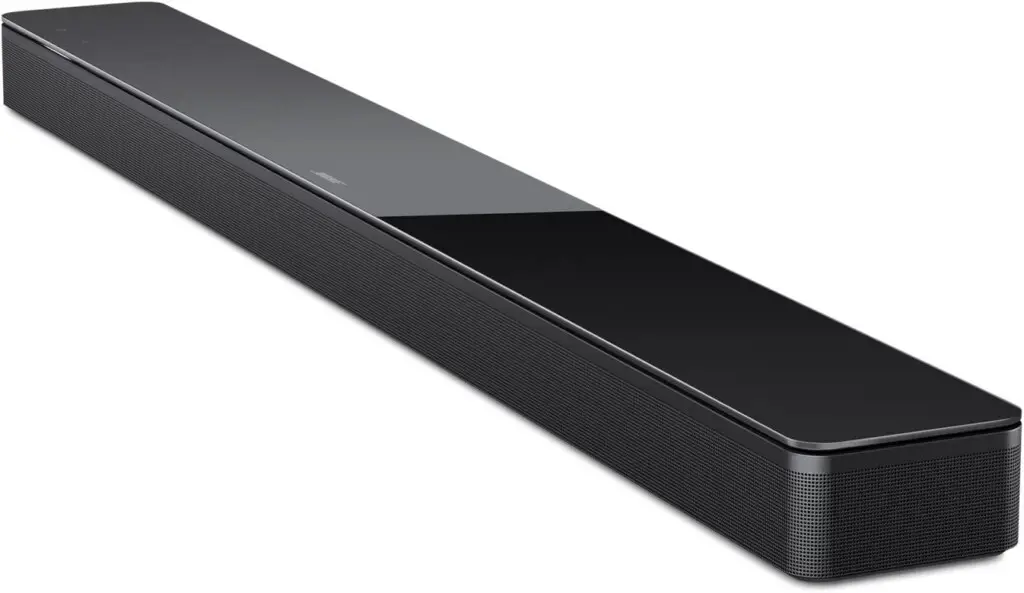 The Bose Soundbar 700 soundbar (on Amazon) is a good choice for our list. It's an upgraded version of the Sound Touch 300 and includes helpful assistant speakers like Alexa and Google Assistant, as well as Airplay 2. These features, especially AirPlay, make it a strong alternative to the Sonos experience mentioned previously.
This unit has an advanced 8-mic array for a great assistant experience. In addition to excellent audio quality with four midrange cones and one tweeter, it comes with a universal remote and has a stylish, slim design.
The Soundbar 700 has a sleek design and comes in white and black. Unlike the Arc, it also includes Bose's ADAPTiQ audio calibration tools to optimize sound for your space.
| Pros | Cons |
| --- | --- |
| Good value for the price | The universal remote may not be necessary if you're buying for eARC |
| Can expand the system with other Bose speakers | At the same price as the Sonos Arc, it's hard to justify choosing this option over the Arc |
| ADAPTiQ allows customization of the soundbar to fit your space | |

The Sony Z9F 3.1ch Soundbar and sub (on Amazon) includes an external speaker and costs slightly more than the first two options. It has true bass, but it may not be worth the extra cost compared to the Arc or Bose 700.
This package has eARC and more, making it worth considering. It's a reliable piece of hardware with visible front drivers. It has a removable panel that can give it a mesh grille look, similar to Sonos soundbars.
If you appreciate high-quality audio and have a minimalist aesthetic, you may prefer the design of exposing the drivers. Aside from this unique feature, this product offers everything you would expect. It has excellent sound quality, a remote control, eARC support, Dolby Atmos support, and a "vertical sound engine" feature that can enhance the sound of the 3.1 channels.
| Pros | Cons |
| --- | --- |
| The design is intentional and minimalistic | For the price, you may wish that there were more channels included |
| The brand, Sony, guarantees reliable and high-quality audio performance | There are only two HDMI-in ports, so if you have multiple devices, this may not be the most efficient way to connect them. |
| | The Dolby Atmos support is virtual and does not include upward-firing speakers. |
The Sony ST5000 7.1.2ch soundbar and sub (on Amazon) is an upgrade from the Z9F. It has dedicated upward-firing speakers for Dolby Atmos, unlike the virtual "vertical sound engine" of the Z9F. It also has a standalone bass that is more powerful than the Z9F.
This model also includes additional drivers for side and rear sound effects. As a Sony product, it is worth the investment and is only slightly more expensive than the other options, around 40-50% more. Keep in mind, this model is more expensive than the others we have discussed.
For the extra cost, you get easy connectivity to Spotify and other music streaming methods. There is Bluetooth and Chromecast audio built in, which allows for easy streaming from your device by finding the Chromecast symbol. This is not as smooth as using the Sonos App, but it does not require an app.
| Pros | Cons |
| --- | --- |
| Chromecast built-in is a convenient feature that may be easier to use than the Sonos app or other app-controlled streaming solutions | This product does not have Airplay support, which we believe is necessary at this price point. |
| This unit has twice the power of the Z9F at 800 watts, making it capable of filling a room with sound without the need for additional satellite speakers. | There is no output jack for additional speakers, and it is not clear if they can be added wirelessly. |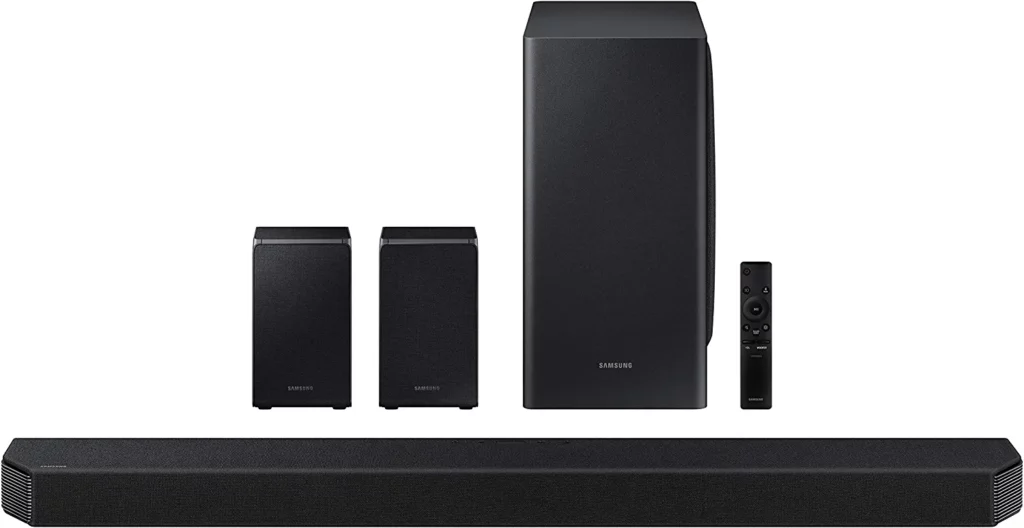 The SAMSUNG HW-Q950T 9.1.4ch soundbar system (on Amazon) is more expensive and comes with two wireless rear speakers. It has all the drivers for Dolby Atmos and proper side-bouncing right and left channels. This is the first unit on the list that can create a 9.1.4 channel surround sound effect with a wireless sub.
This unit is priced to deliver top-quality value with Dolby Atmos and DTS:X support, Alexa built-in, and the ability to connect to WiFi and use a partnering app for streaming and remote control. It aims to be a hub for not only a great home theater surround system, but also a versatile sound system that can fill a room with cinema-quality audio or music streaming.
| Pros | Cons |
| --- | --- |
| This unit has advanced standards such as Dolby Atmos/DTS:X, eARC, and 4 physical up-firing speakers, which surpasses the minimum 2 required for Dolby Atmos. | This model and those that come after it will be more expensive. While you can expect quality at this price point, it is worth considering whether you need to spend this much. |
| It has a total of 20 speakers. | Samsung is known for producing high-quality products, but they also try to do everything, which can dilute their expertise in certain areas. It may be worth considering a model from a company with a stronger audio background, such as Sonos or Sony. |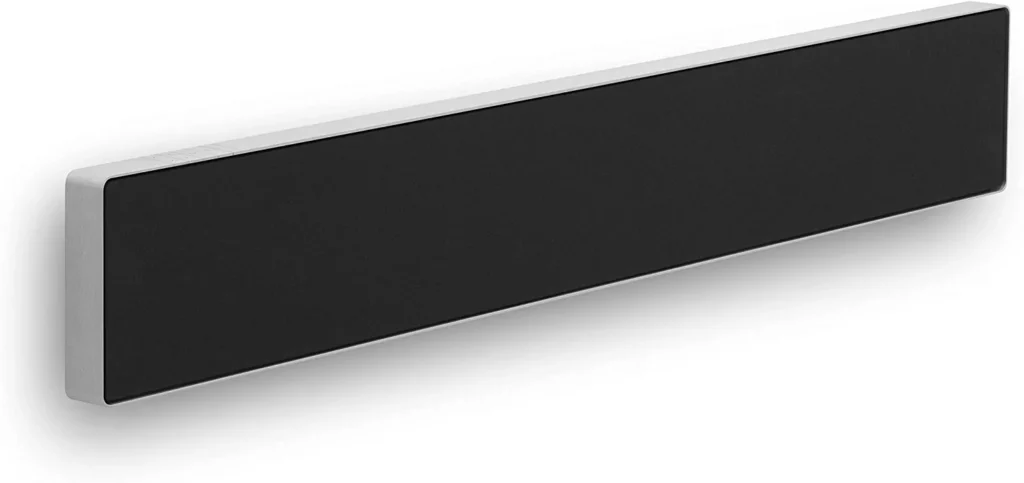 The Bang & Olufsen Beosound Stage Wireless Multiroom Soundbar (on Amazon) is exorbitantly expensive at almost $2k. If you are willing to spend this much on a soundbar, then continue reading. However, some people may prefer to consider a less expensive option on the list.
This luxury/premium soundbar has 11 drivers and Dolby Atmos, but no satellite or wireless base/rear speakers. You can add more speakers to it, and it is recommended to disable the TV's default speakers if you do.
This soundbar is in the luxury/premium category and has 11 drivers and Dolby Atmos. It does not come with satellite or wireless base/rear speakers, but you can add them. It is recommended to disable the TV's default speakers if you do.
| Pros | Cons |
| --- | --- |
| This soundbar has a lot of advanced technology, including upward-firing speakers for Dolby Atmos, in a sleek frame. | Adding surround speakers will also be costly, but this may not be surprising at this price point. |
| It has a unique design with three color options that will elevate any space with its simple, stylish appearance. | You may get a better value with a Sonos system and surround speakers for this price. |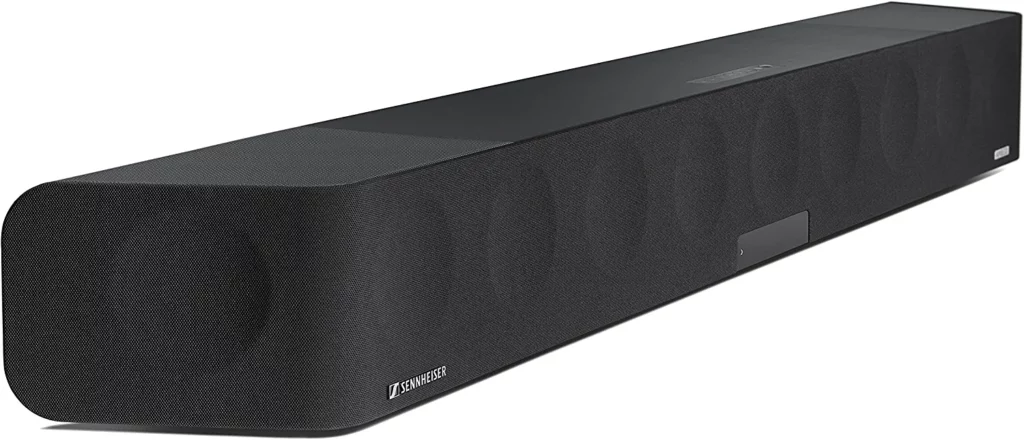 The Sennheiser AMBEO Soundbar (on Amazon) is extremely expensive, but it is the highest end option in this category. It has 13 drivers and 5.1.4 channels in the soundbar without any wireless additions.
This system is standalone with a mic for calibrating it to your space and a unique appearance. It has all the input/output ports and wireless connections, including Bluetooth and Chromecast.
The Sennheiser smart control app promises a polished management experience. This soundbar has many features and a "wow" factor that sets it apart from competitors. You may be willing to pay more for these extra features and the unique appeal.
| Pros | Cons |
| --- | --- |
| It has a sleek design with subtle flair | Some audiophiles may be disappointed by the lack of dedicated surround speakers at any price. |
| It has advanced features and a single base unit without any wireless speakers, making it easy to use. | This soundbar is very expensive. |
Conclusion
Soundbars with HDMI eARC can enhance your home audio experience by allowing for high-quality sound and a convenient connection to your TV. eARC, or Enhanced Audio Return Channel, is a newer feature that allows for the transmission of advanced audio formats, including Dolby Atmos and DTS:X, through the HDMI connection. This can provide a more immersive and realistic sound for movies and TV shows. Soundbars with HDMI eARC also offer the convenience of controlling both the soundbar and TV with a single remote.
There are many options available in the market, ranging in price and features. For those on a budget, there are more affordable soundbars with HDMI eARC that offer good sound quality and basic features. Mid-range options may include additional features such as Bluetooth connectivity and virtual surround sound. Premium soundbars may have a more powerful and immersive sound, with features such as dedicated surround speakers and advanced audio formats.
Ultimately, the best soundbar for you will depend on your specific needs and budget. Consider the size of your room, the types of content you will be playing, and any additional features that you may find useful. Soundbars with HDMI eARC offer a convenient and high-quality audio solution for your home entertainment setup.
Read more about Soundbars
Other Articles