Want great sound without spending a lot of money? The Nakamichi Shockwafe Pro 7.1.4Ch is a great option. This all-in-one surround sound kit includes a soundbar, subwoofer and two satellite speakers. It has everything you need for quality sound at a fraction of the cost of other brands.
But what sets the Nakamichi Shockwafe Pro 7.1.4Ch apart? First, it's a lesser-known brand but it still offers the same quality as expensive brands. Additionally, it's available on Amazon, making it easy to purchase.
If you're looking for a cost-effective surround sound option, the Nakamichi Shockwafe Pro 7.1.4Ch is definitely worth considering. Don't trust just any claims, give it a try!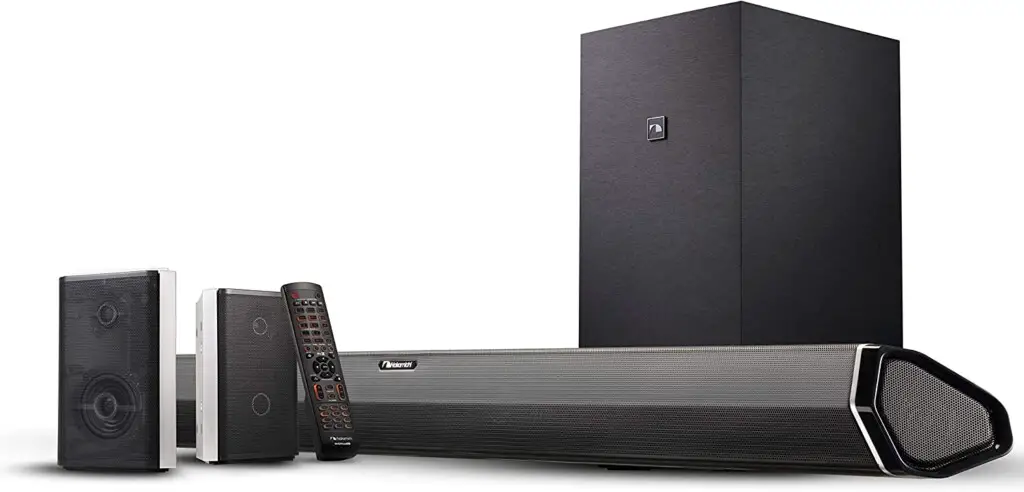 Pros
Quality, true surround sound at an affordable cost.
Clear and concise dialogue.
4K-compatible HDMI ports for multiple options.
All-in-one kit with minimal additional equipment required.
Cons
Surround speakers may cut in and out at times.
No option for stereo mode.
Some slight cabinet resonance in the subwoofer and satellite speakers.
Remote control is not user-friendly.
Nakamichi is not a well-known brand in the surround sound market, but their Shockwafe Pro offers great features at a reasonable price. The Pro 7.1.4 is easy to install. It comes with everything you need in one package, making it perfect for beginners.
Initially, I had my doubts about the sound quality, because it's price seemed too low compared to other similar units. But I was pleasantly surprised to find out that it exceeded my expectations.
It's a great option for those looking for cost-effective surround sound solution.
Features and Design
The Nakamichi Shockwafe Pro 7.14Ch is a great investment for any home entertainment or theater setup. It has a variety of features that make it worth considering. Let's take a closer look at each aspect of this product:
Soundbar

The Nakamichi Shockwafe Pro 7.1.4Ch comes with an upgraded version of the 2016 7.1 model soundbar. It delivers 33% wider sound and features seven individually powered speakers.
The soundbar includes four 2.5-inch full-range speakers on the left and right sides, two 2.5-inch center channel drivers and a single driver on each end of the soundbar for "extreme" left and right sounds, which creates an immersive audio experience.
The soundbar has a unique shape, measuring 45.5 inches long, 3.5 inches deep, and 3 inches tall.
Wireless Subwoofer
The Nakamichi Shockwafe Pro 7.1.4Ch comes with a powerful subwoofer. It has an 8-inch, 180-watt, down-firing driver that delivers deep notes that will shake the room. The wooden enclosure minimizes resonance.
Nakamichi's patented bass reflex system in the newly designed subwoofer delivers intense and powerful low frequencies. The wireless subwoofer has overall measurements of 9.5 inches deep, 12 inches wide, and 20.5 inches tall. It weighs 19 pounds, which is heavy enough to reduce vibrations but still light enough to move around if necessary.
Dual Satellite Speakers – One of the Best Features!
The Nakamichi Shockwafe Pro 7.1.4Ch comes with 2-way dual surround sound speakers that complete the sound experience. Each speaker has a high-frequency tweeter and a mid-range woofer, providing dynamic and precise sound. They measure 5 inches deep, 5.4 inches wide, and 8 inches tall and weigh 2.8 pounds each, making them easy to mount or conceal.
Although the satellite speakers aren't wireless, they connect to the subwoofer via a cable. However, the subwoofer is wireless, so technically the satellite speakers wirelessly connect to the soundbar.
Special Features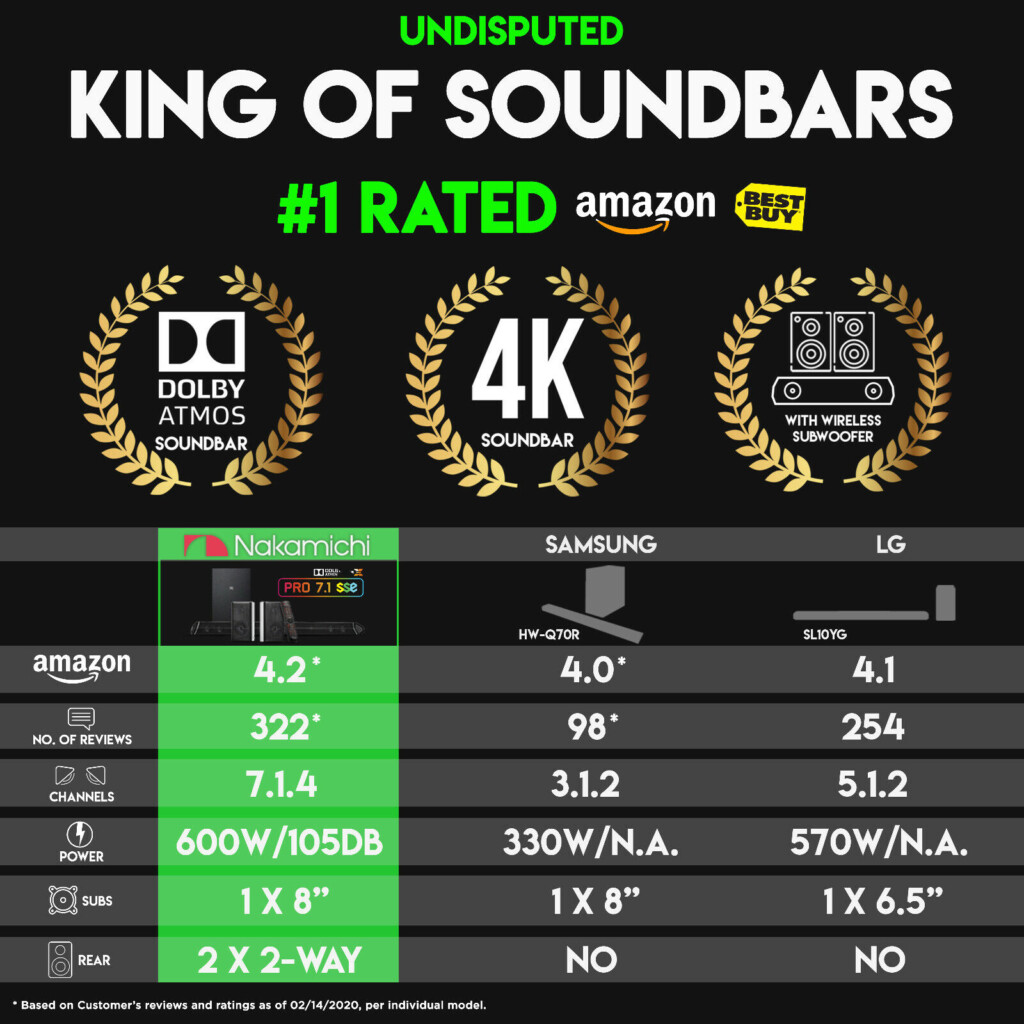 When you invest in the Nakamichi Shockwafe Pro 7.1.4Ch system, you're getting more than just hardware. Here are some of the standout features that make this product stand out:
Room Optimization: The system comes with an easy-to-use room optimization button. You can choose from small (200 sq ft), medium (350 sq ft) or large (500+ sq ft) to automatically set the system to the ideal sound levels for your home theater.
Advanced Sound: The system supports some of the most advanced sound technologies available today. The built-in cinema-grade 3D advanced surround sound quad-core processor supports Dolby Atmos, Dolby TrueHD, Dolby Digital Plus, Dolby Digital, DTS:X, DTS-HD Master Audio, DTS-HD, and DTS Digital Surround.
Video Pass-Through: The soundbar allows you to easily connect your source media. With HDR video formats, it supports Dolby Vision and 4K HDR formats.
Input Options: The Nakamichi Shockwafe Pro 7.1.4Ch offers plenty of options for inputs. They include: ARC HDMI (1), HDMI 2.0/2.2 (3), Optical (1) and Bluetooth v4.1 AptX.
Set-Up Process
Setting up the Nakamichi Shockwafe Pro 7.1.4Ch is easy and straightforward. Here are the steps to follow:
Connecting the TV to the Soundbar
If your TV uses ARC HDMI, connecting is as simple as using the included ARC HDMI cable and setting the TV's audio output to "external speakers" or "receiver" in the audio menu. If your TV doesn't have ARC HDMI, you can use the optical or analog connections instead.
Connecting other devices as sources
If you have other devices like a Blu-ray player or a PlayStation 4, you can use the additional HDMI inputs to connect them directly to the soundbar.
Connecting and setting up the satellite speakers
Once you've connected your source media, you can begin to set up your satellite speakers. The system comes with recommendations for speaker placement, but it's ultimately up to you. You will likely need wall mounts or speaker stands for full installation, or you can use a conveniently placed bookcase or side table. After placing the satellite speakers, you can connect them to the subwoofer.
Placing the subwoofer
The subwoofer should be placed behind the main seating area facing towards it, it is wireless and doesn't require cabling to connect to the soundbar.
How Well Does It Perform?
Previous versions of the Nakamichi Shockwafe may have had some issues, but with the Shockwafe Pro 7.1.4Ch, Nakamichi appears to have addressed those issues. The latest firmware updates, which are included with every unit, have improved the sound quality. The Shockwafe Pro 7.1.4Ch produces exceptional sound with rich, deep tones and a full spectrum of precision audio. It exceeded my expectations and I believe it will exceed yours too.
Will It Last The Test Of Time?
It's true that the system looks like it is made of plastic, which may give the impression of it being cheap. However, the system is actually quite sturdy and durable. Most people will not have any issues with the build quality of the Nakamichi Shockwafe Pro 7.1.4Ch or any of their products. They are well-constructed and built to last, especially for the price.
Should You Buy the Nakamichi Soundwafe Pro 7.1.4 Ch?
After thorough evaluation, I can say that the Nakamichi Soundwafe Pro 7.1.4Ch is a great investment for anyone looking to build a home theater system. It delivers quality sound that can compete with other well-known brands such as Vizio, at a more affordable price. The Nakamichi Soundwafe Pro 7.1.4Ch is an outstanding surround sound option that will let you fully immerse yourself in your entertainment experience.
What Are The Other Alternatives?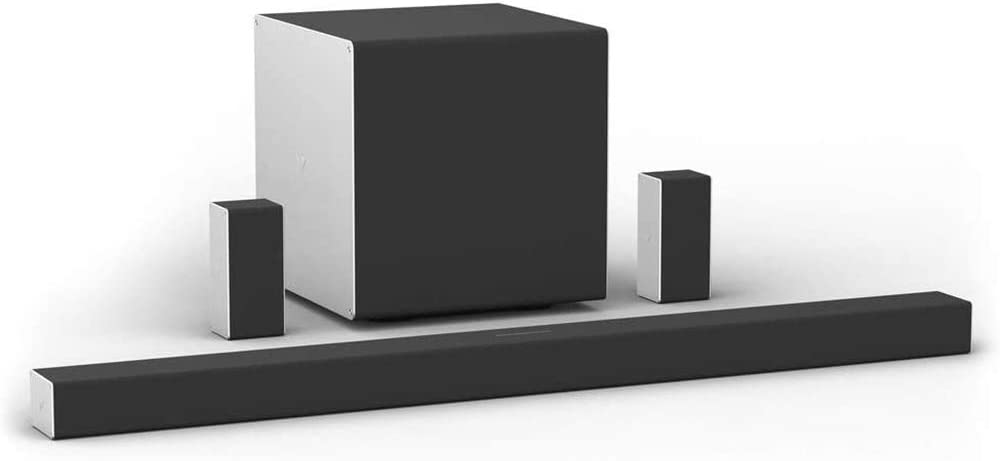 It is true that there are always alternatives on the market. Vizio offers a main competitor to the Nakamichi Shockwafe Pro Soundbar, the newer VIZIO SB46514-F6, which is available on Amazon. This soundbar system is similar in setup and it has a very close price. The SB46514-F6 is a 5.1.4 soundbar system that comes with a 46″ soundbar, a 10″ wireless subwoofer, and 4 upward-firing drivers. It's worth considering if you are looking for a similar system.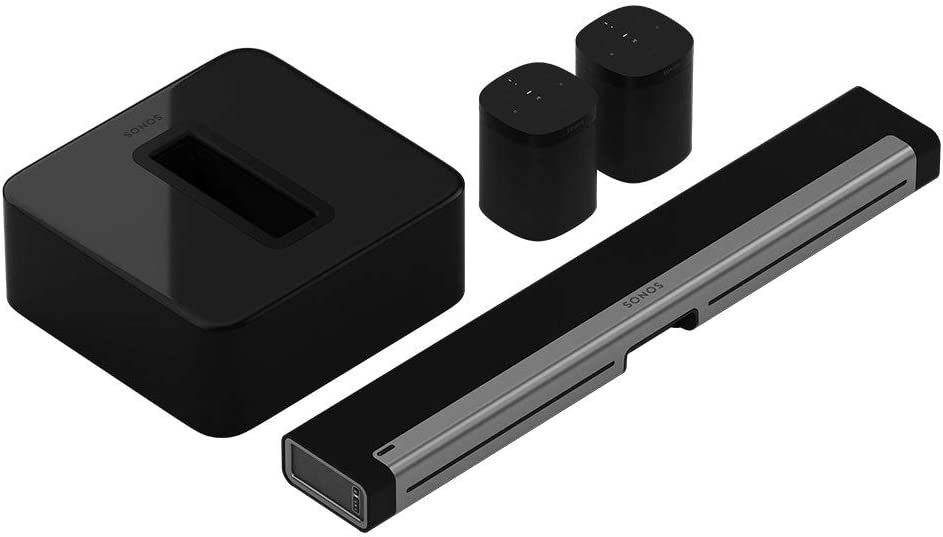 Sonos Playbar with Sonos One speakers is a good option you can find on Amazon. It's high-quality sound but it's very expensive, almost three times more than the Nakamichi Shockwafe Pro 7.1.4Ch. If you don't mind spending a lot and sound is important to you, it's worth checking out.
Bose Alternative

The Bose SoundTouch 300 is a soundbar you can buy on Amazon. It comes with extra speakers that make the sound better. But it's very expensive. If you want good sound and money is not a problem, it's a good option.
To Sum up
Nakamichi Shockwafe Pro 7.1.4Ch is a good option for a home theater system. It gives good sound like other big brands. It's great for surround sound. But there are other brands like Vizio, Sonos, and Bose that have similar systems that are cheaper or have more features. Before you buy, think about how much you want to spend and what's most important to you.
Read Also: Nakamichi Shockwafe Ultra 9.2.4Ch Soundbar Review.
Other Articles