Do you want to make your wired speakers Bluetooth compatible? It's an easy project that can save you money on purchasing a new set of Bluetooth speakers. So how to convert a regular speaker into a bluetooth speaker?
First, acquire a Bluetooth receiver. This device will receive audio signals from a Bluetooth source, such as a laptop or phone. Next, you'll need the appropriate cables to connect the Bluetooth receiver to your speaker system. Finally, pair the source device to the Bluetooth receiver. You're now ready to enjoy audio streaming from your Bluetooth device to your speakers.
There are many benefits to enabling Bluetooth on your speakers. With this setup, you can play audio from any device that supports Bluetooth connectivity. Watch videos on your laptop, or become a DJ with your phone. The possibilities are endless.
Acquire a Bluetooth Receiver
To turn your wired speakers into Bluetooth compatible, you need a Bluetooth receiver. This device converts the wireless Bluetooth audio signal into a line-level electrical audio signal. This type of signal is low voltage and resistant to noise, similar to what you'd find from a preamp, laptop, or cellphone.
However, line-level signals aren't strong enough to directly drive speakers, except for headphone speakers. This type of signal is meant to be transported using minimal power, so it needs to be amplified before it's sent to the speakers.
Bluetooth receivers are budget-friendly, with prices ranging from $10 to $30 for a high-quality receiver. Most Bluetooth receivers come with a female aux jack and female RCA connections, but some, specifically designed for car audio systems, may only have a male aux output.
The Best Bluetooth Receivers
Esinkin W29-US (on Amazon) – most recommended
Enjoy clear audio with RCA and AUX outputs.
Connect from a distance of 10-12 meters or 30-40 ft.
Use the included standard power adapter.
Easy setup for immediate use.
Anker Soundsync A3352 (on Amazon)  – most Portable
Enhance your audio experience with the AUX output.
Connect up to 30 ft away.
Enjoy 12 hours of battery life, charged via micro USB.
Take it with you anywhere, compact and portable design.
Connect two devices simultaneously.
Join the Bluetooth Receiver to the Speaker or Sound System
The cables required to connect your speakers and Bluetooth receiver depend on the specific models you have. In some cases, these cables may be readily available. But, in others, you may need to improvise.
A typical Bluetooth receiver has female stereo aux and RCA outputs, which are suitable for connecting to computer speakers and home audio speakers, respectively. However, if you opt for a car adapter Bluetooth receiver, it will come with a male stereo aux output.
Linking the Bluetooth Receiver to Powered or Active Sound Speakers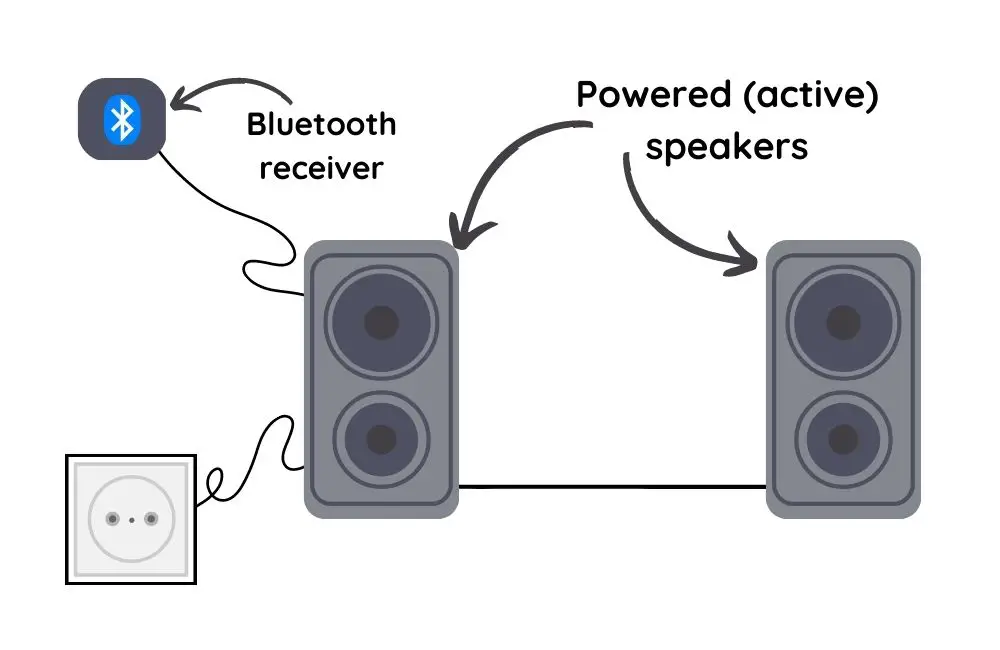 Powered speakers have an external power source that amplifies the line-level signal, allowing you to plug a Bluetooth receiver directly into them.
If you want to add a Bluetooth audio channel to your powered speaker system, connect your speakers to a preamp's output channel and plug the Bluetooth into one of the audio input channels of the preamp. This way, you can use the other channels for your other audio devices.
A preamp also provides volume control to powered speakers without one. If your powered speakers lack volume control, it's recommended to get a preamp. Otherwise, you'll need to adjust the volume on your Bluetooth device every time before listening.
Connecting Bluetooth Receiver to Passive Speakers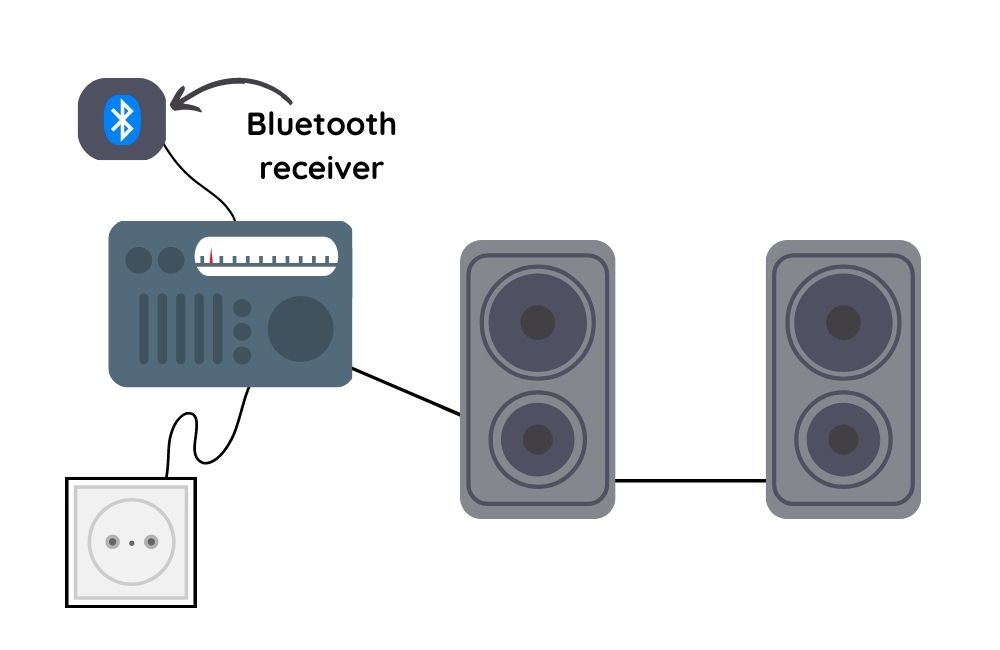 Passive speakers don't have an internal power source, so they need amplification through an amplifier or A/V receiver.
If you use a power amplifier, you can connect the Bluetooth receiver directly to any open audio input channel.
For the best results, hook up the Bluetooth receiver to the HT Bypass or Direct In channel on your A/V receiver. This bypasses the preamp stage, giving your Bluetooth device control over volume, gain, and EQ settings.
If your A/V receiver lacks the HT Bypass or Direct In channel, you can still connect the Bluetooth receiver to an empty audio channel. However, this may result in low audio levels when your Bluetooth device is at a normal volume. In this case, use your Bluetooth device to adjust the volume without disrupting the volume settings for other devices.
RCA and Aux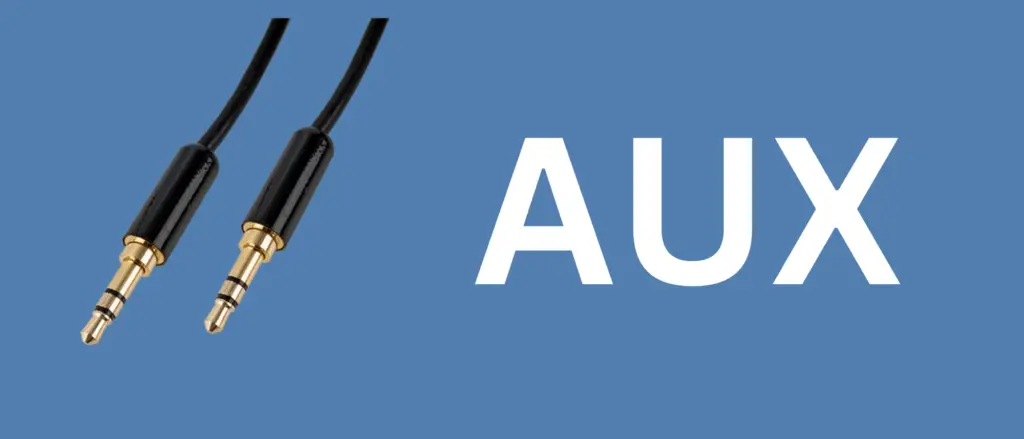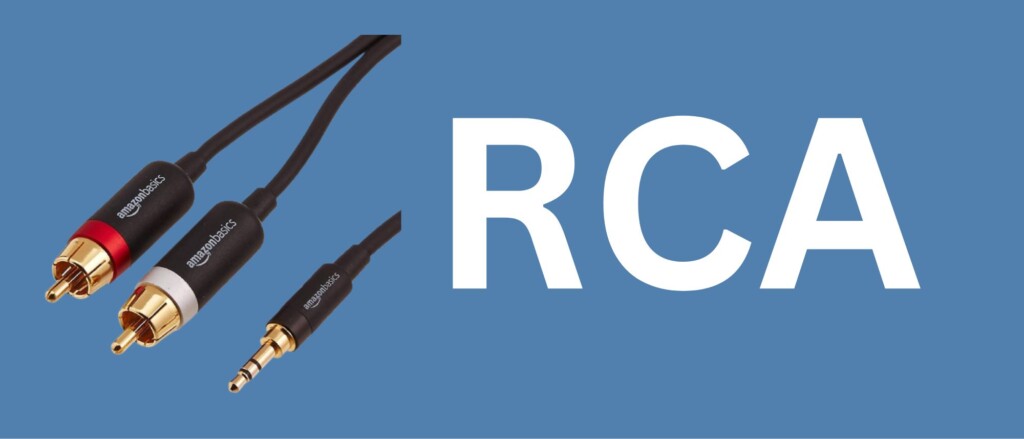 In that case, you will need to get an adapter. Speaker clips to RCA adapters and banana plug to RCA adapters are easily available, but make sure to get the right one for your speaker type.
Another speaker connection type is speaker wire. You can purchase speaker wire to RCA adapters or banana plug to RCA adapters to make the connection. In case the speaker wire connectors are not compatible with the RCA inputs on your Bluetooth receiver, you will need to splice the wires.
Banana Plugs and Speaker Clips
If your speakers have speaker clips or banana plugs, you may need to find an adapter cable that will allow you to connect your Bluetooth receiver to your speakers. These cables are not as widely available as RCA or aux cables, so you may have to do some searching to find one that will work for your setup. Some speakers also come with terminal connectors or connectors that can be attached to the bare wire of your speaker cable. In these cases, you may need to cut off the existing connector and attach a new one that will work with your Bluetooth receiver.
Readying the Cables for the Speaker Wire
Making your own RCA to speaker wire cable is easy and straightforward. To start, cut off the plug from a standard RCA cable. Then, strip a small portion of the outer tubing to reveal the two wires inside. Identify the positive and negative wires and strip a small amount of tubing from each.
In an ideal scenario, the internal wires will be color-coded to match the speaker clips. However, if they are unlabeled, it should not make much of a difference since audio signals are alternating current.
Converting from a stereo aux connection to speaker clips can be a bit more complicated. Unlike RCA connections, which are single-channel and have only one positive and one negative wire per plug, stereo aux connections combine two channels in a single plug.
Inside a stereo aux cable, you will find three wires: left, right, and ground. These wires are usually labeled red for right, white for left, and the ground wire may be black or unlabeled.
Since the left and right channels of a stereo aux cable share a ground, you need to split the ground. Obtain two lengths of small gauge wire and attach them to the ground wire. Then, solder the three wires at a single point. Finally, connect the left channel to the positive terminal on one speaker and the right channel to the positive terminal of the other speaker. Connect one ground extension to the negative terminal of each speaker.
Pair with Bluetooth Receiver
After connecting your Bluetooth receiver to your speakers, the next step is pairing your device. Start by turning on your Bluetooth receiver. If your speakers are powered, plug them in after turning on the receiver.
Next, set the receiver to pair mode. Then, turn on Bluetooth on your device and locate the receiver. Finally, initiate the pairing process and you're ready to start listening to audio through your speakers. Enjoy!
Read Also: How to Use Powered Speakers With a Receiver