For a great gaming and home theater experience, I needed a projector that met my specific needs. I use my home theater for more than just watching movies or streaming shows, I also enjoy playing games. And I wanted a projector that could handle teaming up with friends for Call of Duty, watching my kids play Fortnite, and even playing God of War alone. Here you can find a list of the Best Gaming Projectors For 2023…
During my search, I found many options available on the market. But, It was important for me to find one that fits my needs. It was a challenge to navigate through the different options, but I was determined to find the right projector for me.
So what are the best gaming projectors of 2023?
Are you curious about why each of these gaming projectors made my list? I have compiled a list of the top six gaming projectors for 2023. Keep reading to discover the features that make them stand out.
The 2023 Best Gaming Projector List
A gaming projector and a home theater projector are not the same. In fact, it's hard to find a projector that can do both well. But, I have done the research for you. I have gathered information about the best gaming projectors, including specifications and pros and cons.
It's important to keep in mind that, what works for me might not work for you. That's why I suggest you do your own research too. Before buying electronics online or in stores, it's a good idea to read feedback from other users. It can help you make a more informed decision.
While I highly recommend the projectors on my list, it's important to consider your own needs and preferences. Think about the room you'll use the projector in, the size of your screen, the amount of ambient light in the room, and the type of content you'll be watching.

The BenQ HT2150ST (on Amazon) is a great projector that packs a lot of features in a small package. With its short throw, it offers crisp and clear pictures up to 100 inches from just 4.9 feet away. BenQ is known for its excellent brightness and the CinematicColor and Rec. 709 HD True Color features on this projector ensure quality color saturation. The 10W built-in speakers are also of decent quality for a projector.
This projector is great for gaming, thanks to its low lag. With a 16.67-millisecond input lag and included microsecond DMD response time, as well as a built-in Ultra-Fast Gaming Response mode, you won't have to worry about lag.
But the BenQ HT2150ST isn't just for gaming. It's also recommended for home theater and sports projection. This means it can be used for more than just gaming, making it a versatile option for your entertainment needs.
| | |
| --- | --- |
| Dimensions (L x W x H) | 4.79in x 14.98in x 10.91in |
| Weight | 7.93 pounds |
| Display Technology | DLP |
| Ports | HDMI (2), USB, 3.5mm Audio output |
| Brightness | 2200 ANSI Lumens |
| Contrast Ratio | 15,000:1 |
| Resolution | 1080p |
| Cost | Under $800 |
Pros
10W speakers provide good audio for small rooms.
BenQ HT2150ST offers outstanding color and clear corner-to-corner image for immersive gaming.
Quick and easy setup with plug-and-play design.
Short-throw distance and high-quality image make it perfect for medium-sized rooms.
Multi-purpose use makes it a versatile investment.
Cons
Brightness may not always be even.
Gamers will love the BenQ HT2150ST for its great picture, vibrant colors, and more. It's the top choice overall.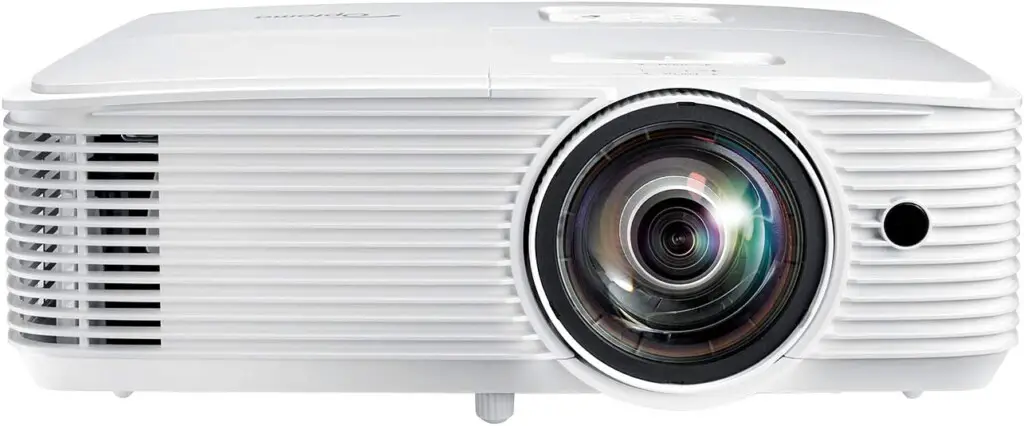 The Optoma GT1080Darbee is one of the top gaming projectors on the market today. It is perfect for small spaces because it displays crisp, large-scale images up to 120 inches from just 4 feet away. Even at 6 feet, the image remains crystal clear up to 166 inches.
One of the key features of this projector is its Keystone Correction technology, which instantly corrects potential color distortions. Gamers will also appreciate the lack of lag, which can be a major problem for multiplayer games. With ample inputs and a compact size, this projector is great for gaming on the go or in your home theater.
Not only is it great for gaming, but it also supports 3D movies and games. The GT1080Darbee fully capable of producing 1080p images, offering big quality for small spaces. In short, If you're looking for a powerful gaming projector that can fit in tight spaces, the Optoma GT1080Darbee is an excellent choice.
| | |
| --- | --- |
| Dimensions (L x W x H) | 8.8in x 12.4in x 4.0in |
| Weight | 5.8 pounds |
| Display Technology | DLP |
| Ports | HDMI (2), MHL, 3.5mm Audio output, USB, Wireless |
| Brightness | 3000 ANSI Lumens |
| Contrast Ratio | 28,000:1 |
| Resolution | 1080p |
| Cost | Under $1000 |
Pros
Optoma GT1080Darbee delivers clear images even at close range, perfect for small spaces like apartments and dorm rooms.
Lightweight design makes it easy to move around.
Virtually no lag, ideal for multiplayer games.
Simple setup, works seamlessly with most game systems.
Cons
Optoma GT1080Darbee lacks lens shift feature
If you are in need of a great gaming projector for a small space, the Optoma GT1080Darbee is the best option for you.

Experience the best gaming visuals with this 4K resolution projector. Its 3400 lumens lamp shines bright. Response time at 16ms is lightning fast. Enjoy deep contrast and precise colors for an impressive gaming experience.
Pros
Enhance your viewing experience with a bright lamp and rich contrast.
Enjoy lightning-fast gaming with a 16ms input lag.
Experience smooth motion with a 240Hz refresh rate.
Cons
Although the internal speakers may not be the best,
the remote control is somewhat flimsy.
Upgrade your gaming experience with the Optoma UHD50X, the best 4K gaming projector on the market. Enjoy ultra HD resolution on gaming PCs and PS4 Pro. Get vivid colors and deep blacks with HDR10 and HLG support. See more detail with a 500,000:1 dynamic contrast ratio. Enjoy lightning-fast response time of 16ms for 1080p and 26ms for 4K for smooth gameplay.
The Optoma boasts 3,400 lumens of lamp brightness, perfect for dark and moderately lit rooms. Easy to set up, mount on the ceiling or place on a table. Adjust the picture with 40-degree keystone correction, 5-15% vertical tilt and 1.3X optical zoom. Internal speakers are not the best, use external speakers or headphones for best audio experience. A great option for outdoor viewing party.

No more unresponsive gaming with this projector. Enjoy a 8.4ms response time and 120Hz refresh rate for a perfect gaming experience. Adjust settings for a perfect picture.
Pros
Achieve a perfect image with a 40-degree keystone correction.
Experience extra brightness with 3800 lumens lamp.
Enjoy versatile viewing options with a short-throw configuration.
Cons
Although some blurriness on corners may be noticed,
the built-in audio quality may not be optimal.
The Optoma GT1080HDR is the fastest response time projector for gaming. 8.4ms input lag, perfect for competitive gaming. 120Hz refresh rate for smooth picture. Enjoy 1080p resolution with accurate color using RYGCWB color wheel and sRGB and Rec. 709 color profiles.
The GT1080HDR offers a bright experience with 3800 lumens of lamp brightness for good performance in bright and dark rooms. Enjoy long-lasting performance with 15,000 hours of overall lamp life. Easy to install with 40 degrees of vertical keystone correction and 1.3x optical zoom for the best picture from any angle. Short-throw design doesn't require a lot of space. Compare it to the top short-throw projector with cutting-edge features.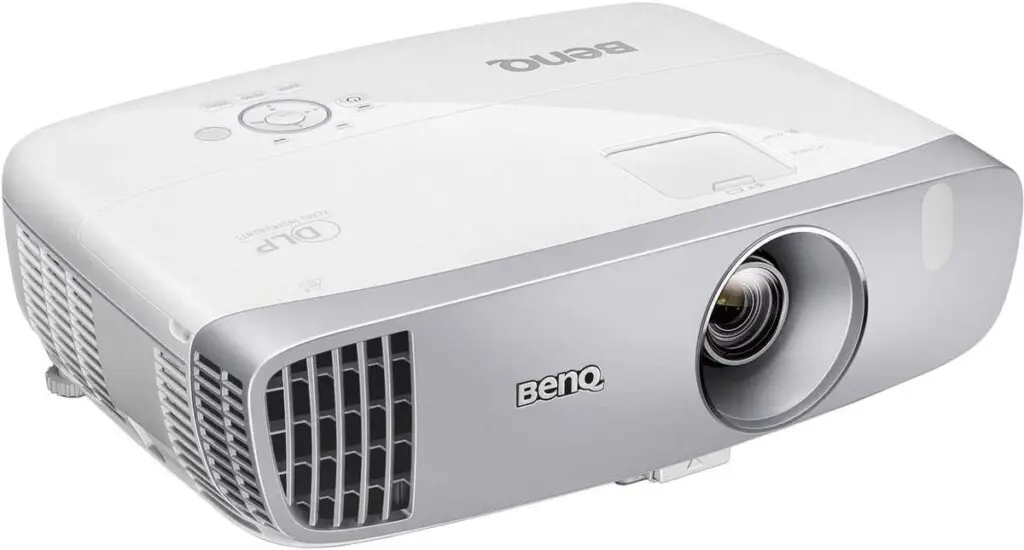 This gaming projector creates image sizes up to 300 inches for an immersive experience. Onboard audio adds to the experience. Enjoy low input lag of 16ms for quick response times in intense games.
Pros
Enjoy lightning-fast response time at 16ms
Experience large images up to 300 inches
Enjoy high-quality sound with built-in speakers.
Cons
Performace in bright rooms may be disappointing,
Lamp replacements may be expensive.
The BenQ HT2050A is an affordable and high-quality gaming projector that is great for most gamers and video games. One of the main advantages of this projector is its low input lag, at only 16ms, it can handle even the fast-moving games without any issues. Additionally, it has a great image size, you can get image sizes up to 300 inches depending on where you place it, providing a full immersive experience.
The BenQ HT2050A also comes with built-in proprietary CinemaMaster Audio+ 2 speakers which are 10-watt speakers, which provide clear dialogue and deep bass, enhancing the overall audio experience. The built-in speakers allow for an immersive gaming experience without the need for external speakers.
The BenQ HT2050A is easy to install and user-friendly. It can be installed as a ceiling-mounted projector or on a flat surface behind your chairs. It has 2D keystone correction functionality that allows you to get a square picture and with a vertical lens shift, you can position it perfectly in your display area. Additionally, the 1.3x optical zoom feature allows you to get a good picture no matter where the projector is placed.
The BenQ HT2050A has a native 1080p resolution and comes with unique CinematicColor technology that provides a colorful and bright picture. It's one of the best projectors for gaming currently available on the market. However, if you're looking for a projector that works well in bright rooms, you may want to look for other options as this projector may not be the best for that purpose.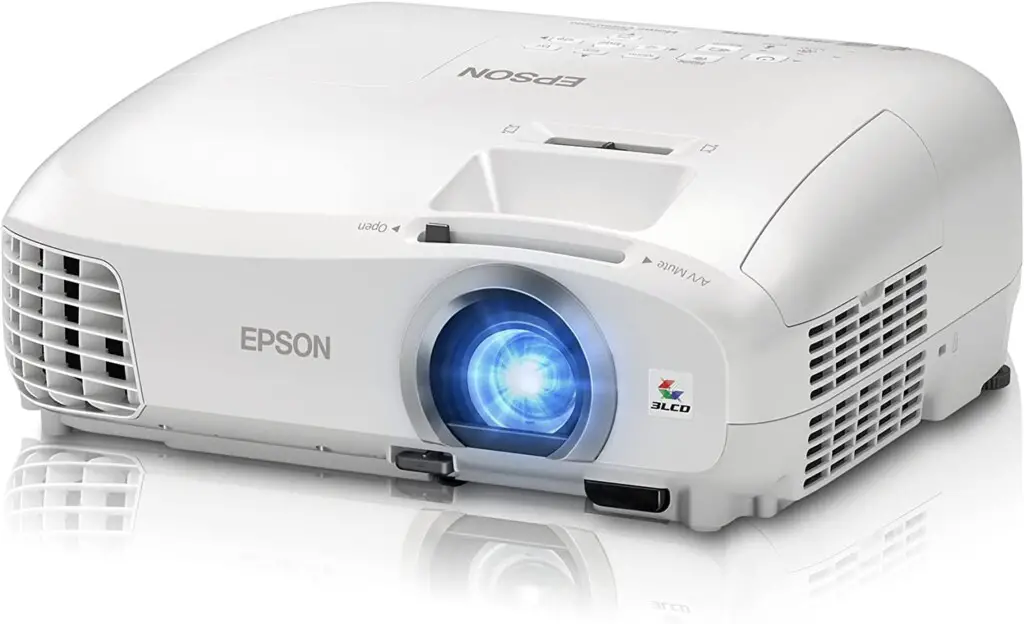 The projector uses 3LCD bulb technology which is unique and provides a deep 35,000:1 contrast ratio, and a bright lamp, this projector produces some of the best and most accurate colors available today. This makes it great for gaming, watching movies and other visual content. It also supports MHL devices and an image size up to 300 inches, which is great for immersive gaming experience or for large-screen presentations.
Pros
Enjoy clearer images with the unique bulb that eliminates rainbow effects.
Connect more devices with MHL support.
Experience large-scale visuals with display up to 300 inches.
Cons
No lens shift
Shorter bulb life than other projectors
The Epson Home Cinema 2040 gaming projector offers a unique approach to display quality with its 3LCD lighting technology. This bulb setup completely eliminates the rainbow effect, which is commonly found in home theater projectors. This means that your high-action gameplay will stay clear and crisp when you need it the most. It also offers a 35,000:1 contrast ratio which provides deeper blacks and better differentiation between light and dark colors, making the image more vivid and realistic.
The Epson Home Cinema 2040 gaming projector offers adjustable features such as automatic vertical keystone correction, optical zoom, and focus controls, which allows you to adjust the image to your preference. In terms of connectivity, it has two HDMI ports, a USB port, a VGA port, and audio in/out ports, which provide multiple options for connecting different devices to the projector. Additionally, one of the HDMI ports is MHL compatible, which means you can connect streaming devices such as Chromecast, Roku, and Fire TV to the projector for an even more versatile experience.
The Most Important Features to Consider
Input Lag
Input lag is the time a projector takes to display what you're doing on your controller or remote control, measured in milliseconds. This is crucial for gaming as it directly affects your gameplay. To ensure a smooth gaming experience, it's important to purchase a projector with minimal input lag. In general, it's recommended to purchase projectors for gaming with less than 40ms of lag. For competitive gaming, it's best to look for projectors with input lag less than 25ms. However, it's important to keep in mind that the Pico projectors are not suitable for gaming because of the high input lag.
Resolution
A key aspect of gaming is to enjoy the beautiful graphics in your games. To achieve this, it's important to get a projector with at least full HD, or 1080p resolution. Many projectors specifically designed for gaming are now also offering ultra HD, or 4K resolution. While 4K projectors for gaming offer better picture quality compared to 1080p options, they tend to have slightly slower response time, but not enough to greatly affect your gameplay. It's important to keep in mind that 4K projectors are more expensive than 1080p projectors and you should also consider your budget when choosing between the two.
Refresh Rate
High-octane games like FPS and racing games feature a lot of action and movement, therefore it's important to consider the refresh rate of the projector you're purchasing. The refresh rate is the measurement of how fast your projector refreshes the frame, which creates a smoother picture during fast-moving action scenes. The best balance between value and performance is 120Hz, but a 60Hz refresh rate is also acceptable. 4K projectors for gaming can go as high as 240Hz, which is even better but more expensive. You can read our Optoma Projector review to see if it offers the ideal refresh rate for your gaming needs.
Image Size
One of the advantages of gaming projectors is that you can create variable image sizes simply by bringing the device closer or farther away from the screen. It's important to consider the space where you spend the most time gaming and determine how big of a display you can realistically create. Then, purchase a projector that fits that size. Keep in mind that there are both long-throw and short-throw projectors, which require different lengths between them and the screen. Long-throw projectors often need multiple feet, whereas short-throw projectors often only require a foot or two. The best ultra-short-throw (UST) projector for gaming only needs inches to operate.
Brightness
A gaming projector's brightness is measured in ANSI lumens. ANSI lumens is a standard unit of measurement that is used to indicate the brightness of a projector. The higher the lumens, the brighter the projector.
Read more about projectors here…
Other Articles