Improve your TV's sound now! Flat-screen TVs often have poor sound quality due to their built-in speakers. Upgrading with a soundbar or sound base can enhance your sound at a low cost. But, which is the best choice Soundbar vs Soundbase? There are many opinions on this topic.
Soundbars and soundbases have different designs, sounds, and placement options. Soundbars are mounted, slim, and have internal speakers plus an external subwoofer. Soundbases are compact and sit under the TV with more internal speakers.
Deciding between a soundbar and soundbase? Consider all the differences and features of each. Start by understanding what these devices are and then compare them.
What is a Soundbar?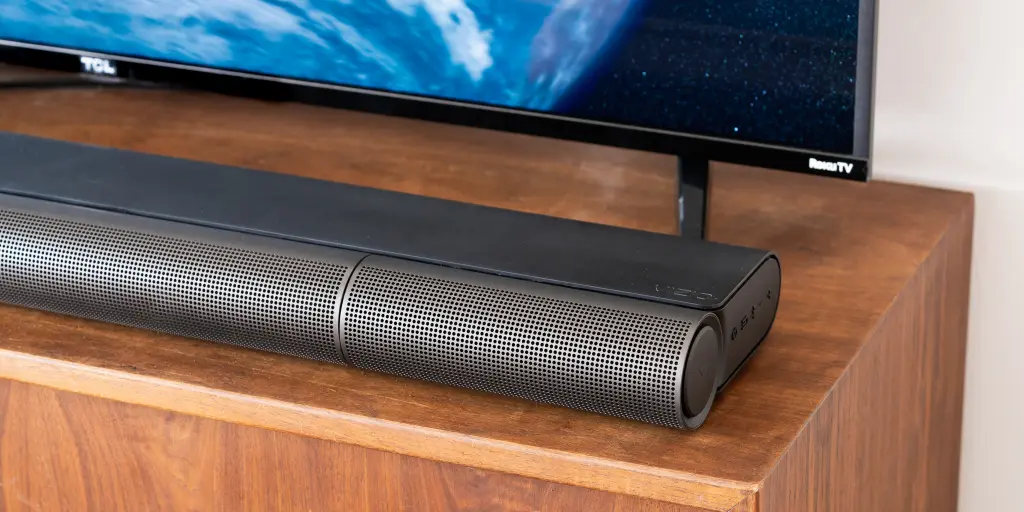 Soundbars are budget-friendly, slim speakers that improve the sound of flat-screen TVs. Some newer models even offer sound quality similar to traditional surround sound systems, especially when combined with external speakers.
Pros
Soundbars are now better designed than ever, with improved speaker quality and impressive internal technology. Plus, they offer extra features for added convenience.
Soundbars are easy to use with many smart technology features and integrations. These include compatibility with smart home devices like Alexa and Google Home, Bluetooth, and more. You'll be amazed by the integrations available with a soundbar.
Soundbars are more popular than soundbases, so you'll have more options, prices, and packages to choose from. You can find the perfect fit for you and your needs by sifting through the wide variety of options available.
Additionally, soundbars are visually appealing and can add to the aesthetic of your room. They are often placed in main living areas for decorative purposes.
Cons
To compensate for their slim, compact design, many soundbars include external speakers to improve the overall sound quality.
However, the addition of external speakers can make the setup process more complicated, as they require their own power connections and proper placement. Some soundbars do have built-in subwoofers, which can simplify the setup process.
There are many affordable soundbars available on the market, but it's important to be cautious when choosing a low-priced option as they may not have the same quality as more expensive models. This is especially true for extremely cheap soundbars.
Suggestions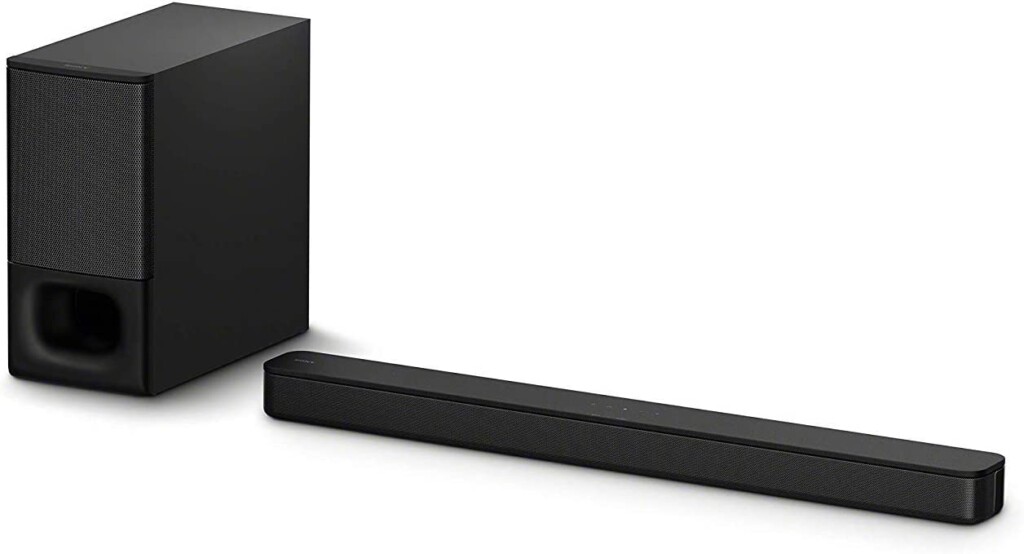 If you're looking for a budget-friendly option, the Sony HT-S350 Soundbar with Wireless Subwoofer (on Amazon) is a good choice. It offers 2.1 channels of sound and includes a wireless subwoofer. The subwoofer requires its own cable, but it enhances the overall sound quality.

If you're looking for a high-end option, Sonos is a reputable brand to consider. While their Playbar (on Amazon) is a good choice, they also offer other premium options worth considering.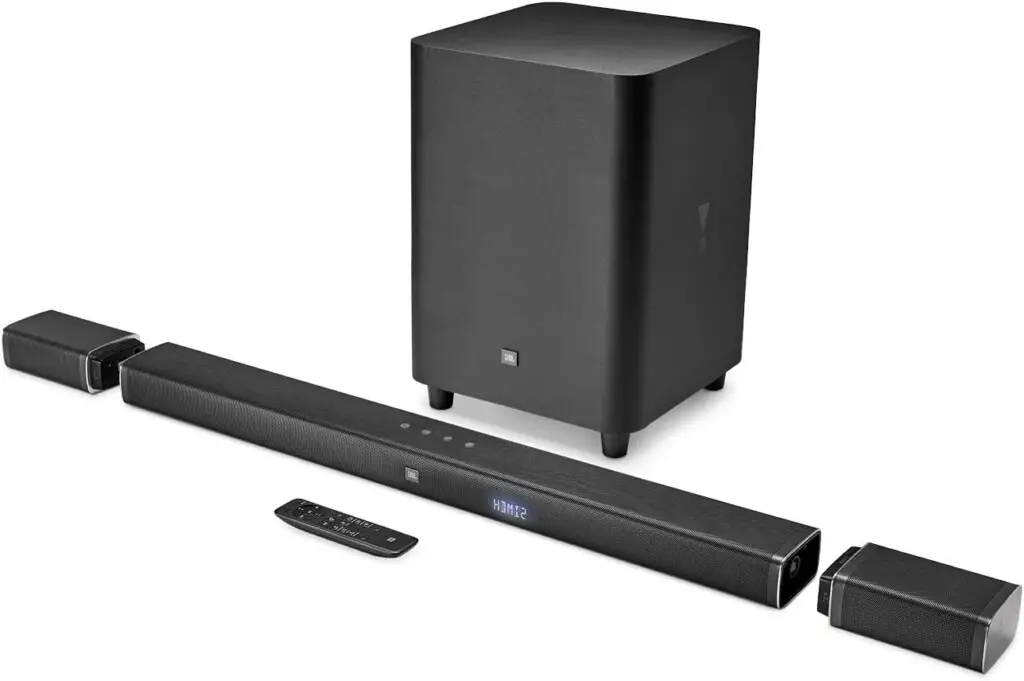 For a unique premium option, the JBL Bar 5.1 4K Ultra HD 5.1-Channel Soundbar (on Amazon) offers a 5.1 channel system without the need for cables. The left and right channels are driven by detachable, wireless speakers with batteries that can be charged when not in use.
What is a Soundbase?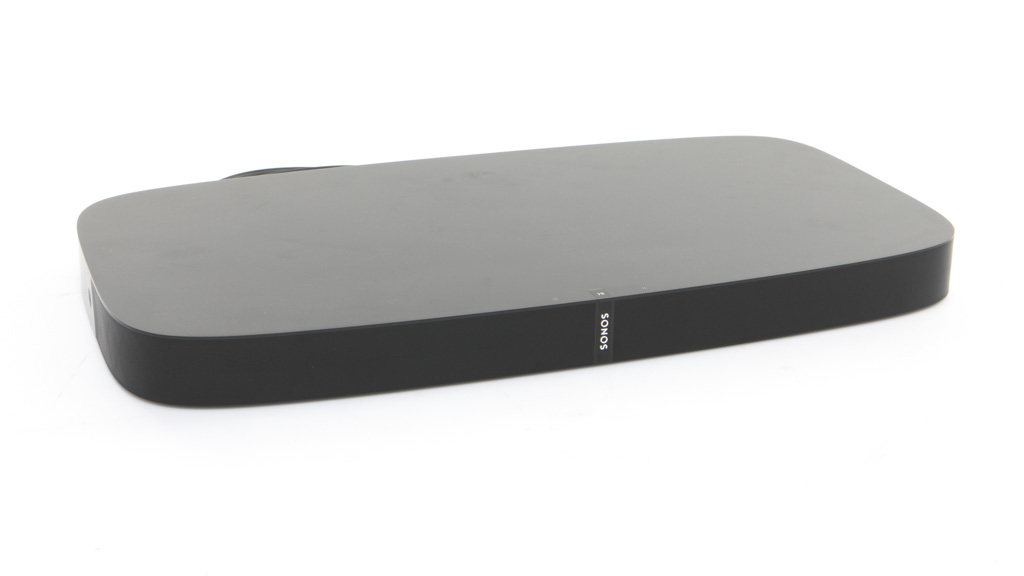 A soundbase is a simple, budget-friendly way to enhance the sound of your TV. It's a compact speaker that your TV sits on top of and is easy to install.
Pros
Soundbases are larger and more box-shaped, with more powerful speakers and often a built-in subwoofer. They provide high-quality sound for your TV without external speakers. Choose a soundbase if you want a single component to improve the sound of your flat-screen TV.
While soundbases may be bigger than soundbars, they are still compact enough to sit under your TV without blocking the view. They blend in with your TV and become an extension of it.
Cons
Place a soundbase on top of a piece of furniture. Do not mount it. If your TV is already mounted, a soundbase may not be suitable for you because it is bulkier and heavier than a soundbar.
Soundbases are less common than soundbars and typically more expensive due to a smaller number of manufacturers. They also may not have as many smart features, such as voice assistants.
Soundbases typically have fewer front-facing speakers than soundbars, which can result in a sound that is more focused towards the front of the room. This may not effectively fill the room like a soundbar does.
Suggestions
There are fewer soundbase options available on the market as they are not as popular as soundbars. However, here are some good choices to consider.
Budget Soundbase Option

For a budget-friendly soundbase option, consider the ZVOX SoundBase 670 (on Amazon). It has left, right, and center speakers for 3 channels of sound and built-in subwoofers. Its compact size (3.5″ height) won't take up much space and can easily blend in with your decor.
High-quality Soundbase Option

For a premium option, the SONOS Playbase (on Amazon) is a top choice but comes with a higher price tag. It has all the features you want in a soundbase.
The SONOS Playbase not only enhances sound quality but also has a sleek design and offers wireless integration options. It's a great choice for upgrading your space.
Differences Between Soundbases and Soundbars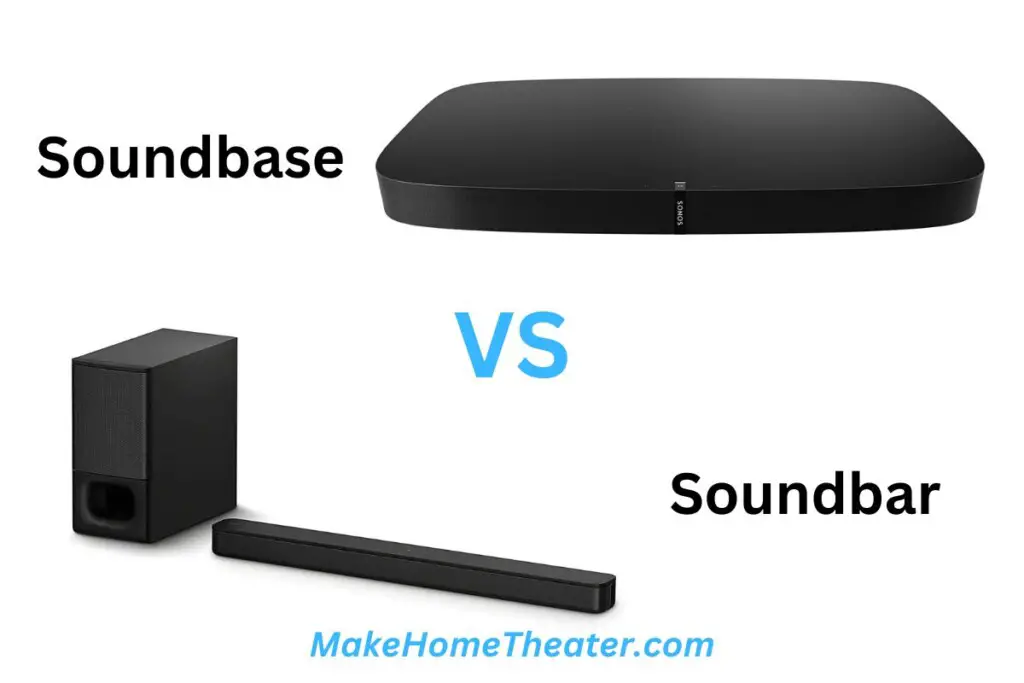 There are several differences between soundbases and soundbars. These include design, speaker setup, sound quality, and placement. Here's an overview:
Design
Soundbars and soundbases differ in design. Soundbases are small, rectangular or oval shaped boxes that sit under your TV. They are a bit bulky. Soundbars are long and narrow with a stylish look. They can be placed on a shelf or mounted on a wall.
Soundbars have a slim and stylish design. They are usually a few feet long to match the width of your TV. You can mount them on a wall or place them on a shelf for regular viewing.
Soundbases are compact and small, but also heavier and sturdier. They are designed for you to place a TV on top of them. They are basic in design and not very stylish. They are meant to be a compact speaker system.
Sound Quality
The main difference between a soundbar and soundbase is sound quality. The construction of these devices affects the sound you'll hear.
A soundbar has a wider sound landscape due to its longer design and provides better surround sound for a room. However, bass may not be as strong and you may need an external subwoofer. Some soundbars have built-in subwoofers that provide good quality sound.
Soundbases are not as wide as soundbars, but have more space inside. This allows for larger internal speakers, amplifiers, and subwoofers. This creates a more powerful sound without the need for external speakers.
Both soundbars and soundbases can be upgraded with external speakers.
Speaker Configuration
Soundbars usually have three to five internal speakers. Some newer models have seven or more speakers to improve sound quality and compete with traditional surround sound setups. Some also have built-in subwoofers or technology to enhance bass.
Soundbases usually have a 2.1 or 3.1 speaker configuration. This means they have left and right speakers and a subwoofer, or left, right, and center channel speakers with a subwoofer. The Sonos Playbase is an example of a soundbase that you can add external speakers to in order to create a 5.1 surround sound system.
Placement
You place your TV on top of a soundbase, which sits on a table, cabinet, or entertainment stand. Soundbases are not mounted on the wall.
You can mount or place a soundbar on a table, cabinet, or entertainment center. You can also mount it below or above the TV if necessary. If you are considering this option, we have an article discussing the pros and cons of above and below placement of soundbars.
Other
Many models and styles of soundbars and soundbases have additional features like Bluetooth compatibility and smart home device compatibility. They also have different wired connectivity options like HDMI, analog, optical, or RCA.
Be sure to choose a system with features that meet your needs. If you want to connect to Alexa, make sure the system is compatible. If you have specific input requirements, ensure that the system meets them.
If you want a compact all-in-one solution without external speakers, you may need to search for a good soundbar and pay extra. Many soundbars don't have impressive sound without external speakers due to lack of power or bass.
Soundbars often provide front-heavy sound and don't offer the same surround sound experience as a multi-component system.
Read more about Soundbars read here…
Final Word
There are many good reasons to choose either of these sound systems. They are both a good alternative to traditional surround sound systems and an improvement over the low-quality sound of most TVs. The right choice for you will depend on your budget, needs, and desired connectivity options and style.
I hope this information helps you make an informed decision that meets all of your needs. Good luck with your search!
Other Articles