The NVIDIA Shield is not just any other streaming device. It boasts high-quality graphics and next-generation features, making it a favorite among many. If you are interested in getting one, you might be wondering whether your TV is compatible with it. Fortunately, the Shield can work with any TV that has an HDMI connection.
While the NVIDIA Shield can work with any TV, it is worth noting that certain high-tech TVs work best with the device. If your TV does not have an HDMI connection, you can still connect the Shield using an HDMI converter. However, keep in mind that the image and audio quality may be compromised as a result.
NVIDIA is renowned for its graphics expertise. While the introduction of a streaming box was an unexpected move from the company, it has been a welcome one. Many people are opting for the Shield over other popular devices such as Apple TV. If you're considering the Shield, it's essential to know if it's compatible with your TV. In this article, we'll take a closer look at the compatibility of the Shield with different types of TVs.
What TV does NVIDIA Shield Work Best With?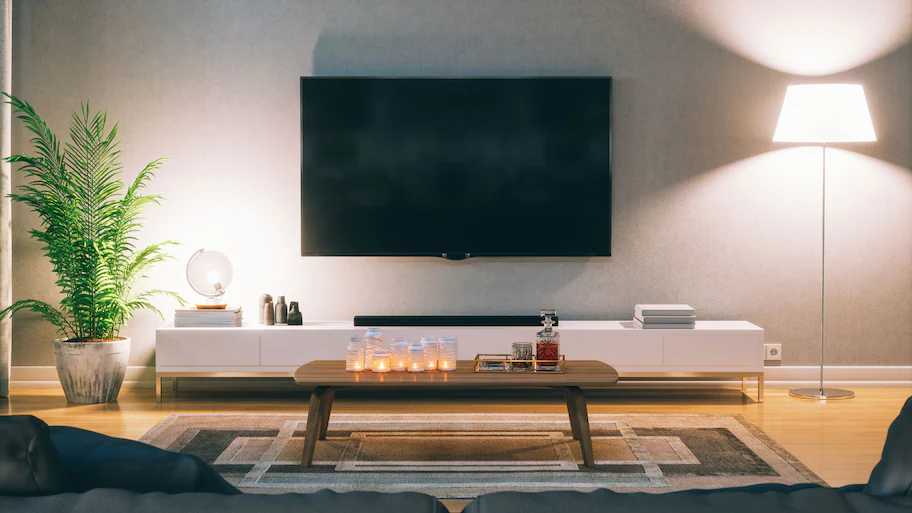 The NVIDIA Shield (on Amazon), looks like any other streaming box on the market at first glance. However, it caters to a crowd looking for higher-end graphics, but that doesn't mean it's not suitable for everyone to use.
When considering which TVs are best for the NVIDIA Shield, it comes down to which TVs can handle the resolution and features of the product. The only requirement is that your TV has an HDMI connection to get things connected.
Once you have an HDMI connection, you can easily connect to the Shield and let the device take care of the rest. Even if your TV can't support the highest resolutions of the Shield, you can still access the main screen and use the device as intended.
However, if you don't have an HDMI connection, there's no need to stress just yet. There may still be hope for you. We'll explore this option later in this article.
The Best Features of the NVIDIA Shield
While there are streaming devices available from a wide range of manufacturers, many loyal Shield users insist that this box is an absolute must-have. So what sets the Shield apart? What kind of features can you expect from this sleek-looking streaming device?
Let's take a look at some of the key features of the NVIDIA Shield:
4K HDR-ready — Enjoy up to 4K HDR playback at 60 FPS for an immersive viewing experience.
Dolby Atmos — With support for Dolby Atmos, as well as DTS-X surround sound over HDMI, you can enjoy high-quality audio to match the stunning visuals.
High-speed processor — The Shield is powered by an NVIDIA Tegra X1 with a 256-core GPU and 3 GB RAM, providing lightning-fast performance.
On-board storage — With 16GB of onboard storage available and expandable storage slots, you'll have plenty of space to store your favorite movies, shows, and games.
Voice assistant — The Shield comes equipped with Google Assistant built into the device, allowing you to control your viewing experience with just your voice.
Wireless — With Bluetooth and 802.11 2.4 GHz and 5 GHz Wi-Fi, you can easily connect to the internet and other devices.
Best TVs for Using the NVIDIA Shield
As we mentioned earlier, as long as your TV can handle the impressive specs of the NVIDIA Shield, you should be able to use it without any issues. However, not all TVs are created equal, and some may offer a better viewing experience than others.
Here are some of the best TVs for using the NVIDIA Shield:
How to Use NVIDIA Shield with a TV that Doesn't support HDMI?
Although most TVs these days come equipped with an HDMI output, it is still possible to connect the NVIDIA Shield to older tech with the help of a dongle. There are a variety of HDMI dongles available on the market that can help you connect your Shield to devices with other types of ports.
Here are some examples of HDMI dongles you could use to connect to the NVIDIA Shield:
While it is possible to use these gadgets to connect the NVIDIA Shield to a variety of devices, it's important to remember that you may not always get the best picture quality. For a device like the Shield, it's the flawless quality that makes it stand out, so connecting it to something that doesn't support its natural resolution may result in less than optimal performance.
Read Also: How to Mount a TV – Step-by-Step Guide with Pictures
To Sum Up
The NVIDIA Shield is an exceptional streaming box, capable of supporting incredibly high-quality resolution and audio standards. This device works with nearly any standard television that features an HDMI input, making it a highly versatile choice for streaming media.
While certain TV models are better suited for the NVIDIA Shield's capabilities, the device still delivers impressive performance with a variety of displays. In the event that your TV lacks an HDMI input, you can always purchase a dongle to connect to the Shield. However, this may not be the most effective way to optimize the device's potential.
Other Articles