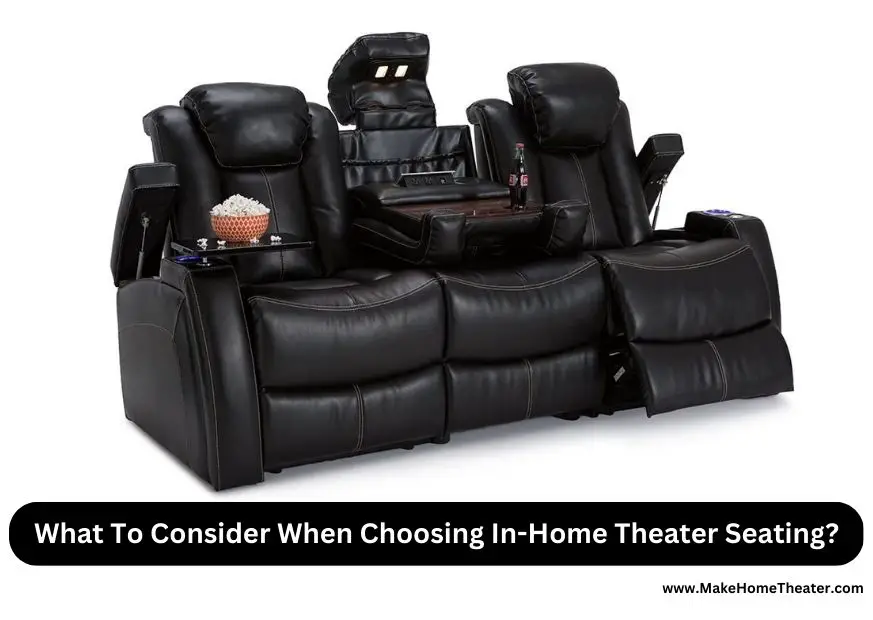 When it comes to your home theater, the seating you choose is one of the most personal decisions you'll make. There are many important questions to consider and options to weigh before making your choice. So What To Consider When Choosing In-Home Theater Seating?
When selecting your home theater seating, it is essential to consider the following factors:
Room/Audience Size: How many people will be using the space?
Budget: What is the maximum amount you are willing to spend on these seats?
Features: What features and amenities are you looking for in the seats, such as reclining or cup holders?
Design: How do you want the seats to look and function in your space?
Comfort: Will the seats be comfortable for long periods of time?
Quality: How confident are you that the seats will be durable and long-lasting?
When creating your home theater, it's important to keep the big picture in mind. Your seating, room and equipment all play a role in creating your personal experience. It's critical to consider how your seating will fit within your existing home theater, or how it will fit in with your planned setup.
How to Choose Home Theater Seating?
Determine the room and audience size to decide how many seats are needed for your home theater.
Set a budget to determine how much you are willing to spend on the seats.
Research features and familiarize yourself with the cost of different options.
Imagine the seats in your space and consider design elements such as style, material, and color.
Test the comfort of the seats and ensure they are comfortable for long periods of time.
Check for quality and read reviews to ensure the product is durable and long-lasting.
Consider if there is a flexible return policy before making a purchase.
By following these simple steps, you'll be able to select the perfect seating for your home theater in no time! Remember, shopping and designing your home should be an enjoyable experience, not a headache. So, take your time, consider all the options, and have fun with the process.
When it comes to home theater seating, the most important thing is that it should be comfortable, fit well within your room, complement the overall aesthetic of your home theater, and is durable. Keep these factors in mind, and you're sure to end up with the seating of your dreams. So, don't hesitate, start browsing and selecting the perfect seating for your home theater today!
Consider Room Size for The New Seating
When planning your home theater, the first thing to consider is the size. Who will be using it? Will it mostly be for yourself or will you be entertaining guests? Will kids be using it too?
If you're planning a solo experience, focus on finding the perfect seat for you. Consider a comfortable, individual recliner that matches the aesthetic of your home theater. A Seatcraft recliner(On Amazon) is a great option to consider.
However, if you plan to have regular companions, consider a three-seat recliner (On Amazon). These are a popular choice in home theaters today and are modeled after the authentic movie theater experience. They often come with features such as footrests, cup holders, and table trays. They are widely available and commonly used.
Rows for More Seating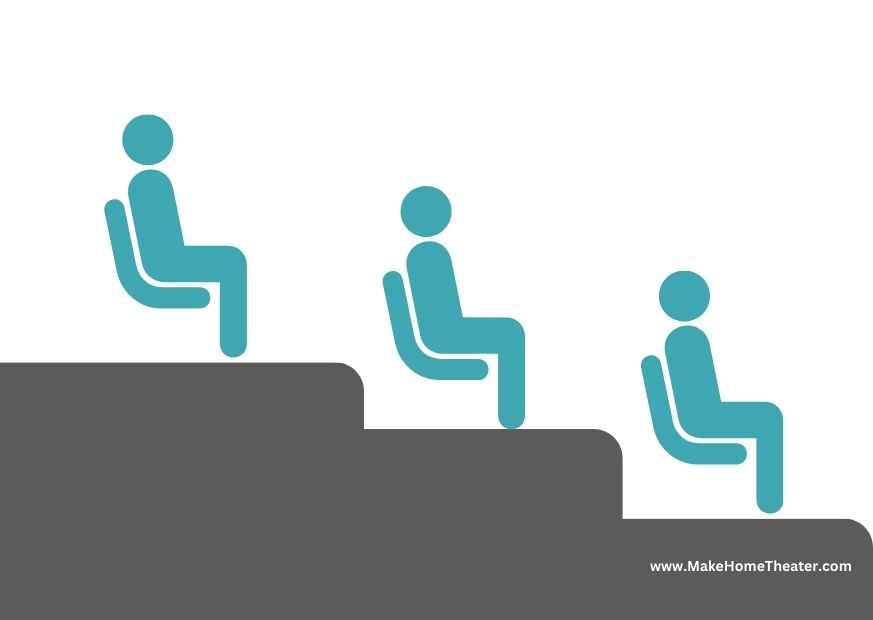 If your room is big enough, and you plan on having a lot of movie-watchers regularly, you can create two rows of recliners for six seats in total. If the room is wide enough, you could even add two seats in each row.
However, when creating multiple rows of seating, visibility can be a concern. This is where risers come in handy. Risers like this one are designed to elevate your furniture several inches. Depending on your seating option, you might be able to get by with corner risers, but if you need an entire section lifted, you will likely require much more expensive area risers.
When selecting furniture, it's important to keep in mind the seating position. If you configure your home theater correctly, the best sounding area will likely be in the center of the room. Ideally, you will have room around the furniture itself, and your home theater seating will not be pushed up against any walls.
Home Theater Seat Pricing – Budget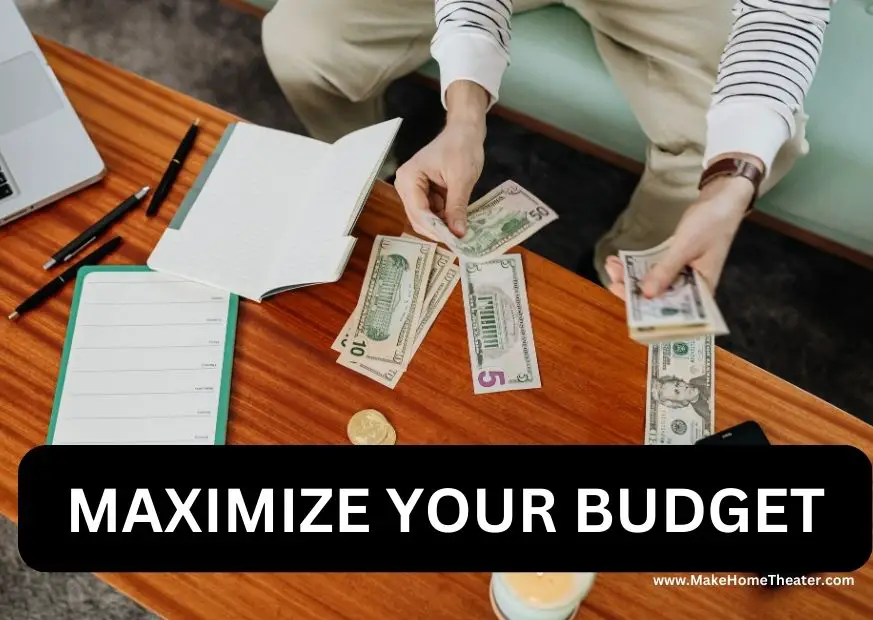 When planning your home theater, budget is an important consideration. Real leather seats will cost more than options with a cloth or faux leather. A 3-in-1 set of recliners will likely cost less than buying 3 individual recliners.
To determine the best seating options for you, first, consider your room size and budget. Decide on a budget and the lighting of the room. Once you have these factors in mind, it will be easier to make a decision. Keep in mind that it's not worth shopping at a thrift store if you have a large budget and only need a couple of seats. Similarly, there's no need to shop for expensive electric recliner massaging chairs if you have a small budget.
If you have a smaller budget, discount furniture stores and second-hand stores can be great options. Even if you have a large budget, these options can still be worth exploring in certain scenarios.
Getting The Most Out Of Your Money
If you have a reasonably large theater room and most expect to use it with your spouse and one other person, but occasionally want to accommodate guests, it might make sense to purchase a single 3-recliner setup. This will allow you to have extra seating options when needed, without investing a lot of money in seating that will only be used occasionally.
It's important to keep in mind that while cost is a consideration, it should not compromise any of your priorities such as aesthetics, features, space, etc. Make sure to look at all options and find the best balance between cost and your desired features.
Leather Gel: offers the look and feel of top-grain leather that is both durable and elegant
Powered Headrests & Recline: take your comfort to the next level with the push of a button
Fold-Down Table: center with two USB charging slots and two 110V outlets and overhead lights
Convenient Features: USB charging ports, hidden in-arm storage, free tray table for each seat, and lighted cup holders
Dimensions: 43 H x 84 W x 37 L, reclined length 65 L, seat depth 22, seat height 20, see specification sheet for more details
When you have made a decision on the seating option that's best for you, don't forget to shop around. Compare prices and check for discounts. Start by searching for the product name on Google and check the manufacturer's website. Even if you aren't purchasing the latest model, there's a good chance of finding a discount somewhere.
It's important to do your research and compare prices to ensure you are getting the best deal possible. You don't want to regret your purchase a few weeks later when you find the same furniture somewhere else for a much lower price.
Home Theater Seating Features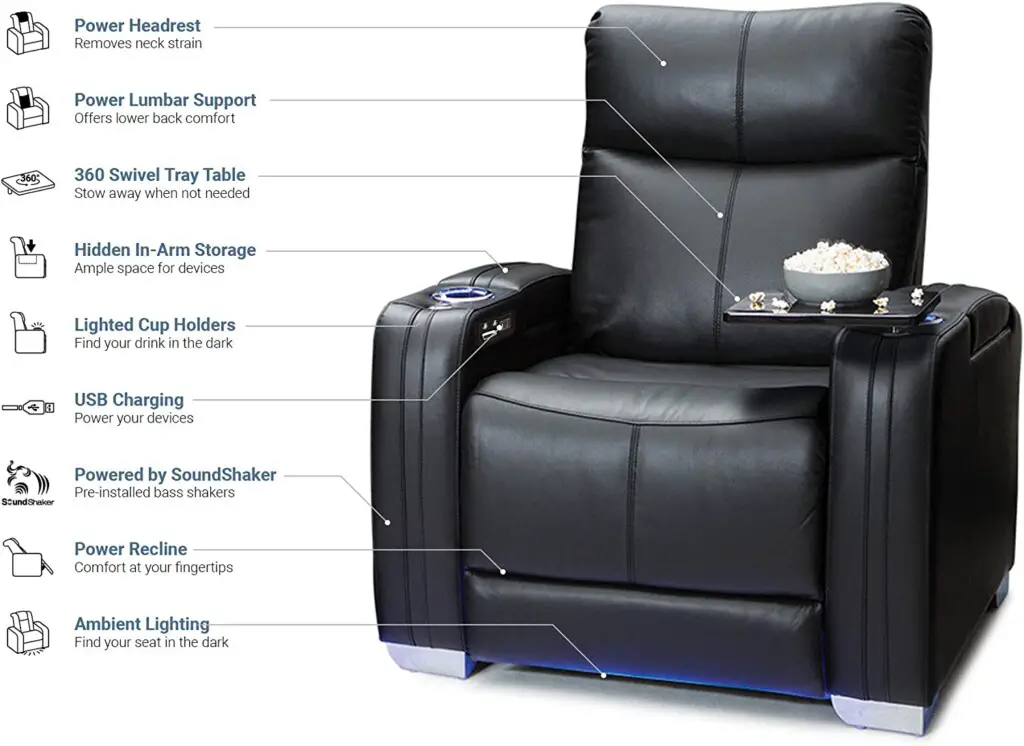 When choosing home theater seating, it's important to consider which features are necessary for you. Do you need chairs that recline? Are cupholders a must-have? Or do you want the ultimate luxury experience with features such as USB chargers for each seat, a wine caddy, and a sound shaker?
Keep in mind that everyone's priorities and preferences are different. If your main goal is to enjoy a movie comfortably in your home, focus on comfort-oriented features rather than technology. Consider which features are important to you and prioritize those when making your decision.
In-Home Theater Seating: Comfort Features
Other features to consider when choosing home theater seating include powered recliners, adjustable headrests, and memory foam seats, which are becoming increasingly popular. If you plan to watch movies with a partner, consider a chair with an armrest that folds up for cuddling.
It's also important to keep in mind that there may be other features that you haven't even considered yet. When shopping around, keep an open mind and be open to exploring new options that could enhance your overall movie-watching experience.
Luxury Features
Other features to consider when choosing home theater seating include electrical outlets built into the armrests, overhead reading lights, and storage areas on the side or underneath the seat. These features will make for an extremely luxurious movie-watching experience and make it easy for you to be a great host for your guests.
Technology is constantly evolving, and it can be intimidating to invest in the latest and greatest features because they might become outdated or obsolete, or the prices may drop significantly. However, it is the price you pay for having the best experience. Keep in mind that the latest technology might not be the best option for everyone, always consider your budget and preferences.
In-Home Theater Seating Design
Design is a crucial aspect to consider when choosing home theater seating. Size, material, features, build quality, structure, shape, and color are all important factors. Budget plays a significant role in determining how much customization you can do with the design of your seating. If you want a 'wow' factor when people see your home theater, be prepared to spend more money on design.
When it comes to design, it's important to make smart choices. Consider if upgrading from faux leather to real leather is worth the cost or if you really need an unusual color palette to match your vintage sci-fi posters. Always keep in mind your budget and priorities and try to find the best balance between design and functionality.
Different Aesthetics – In-Home Theater Seating
When choosing home theater seating, you may have a specific design in mind. You might want something modern and futuristic, like these chairs that look like they could be on the Star Trek Enterprise. Or, you may want something more elegant and regal, like the Anthem recliners by Seatcraft. If you want something unexpected and unique, consider cuddle chairs that look like they belong in The House of The Future.
No matter your design preferences, there is a seating option out there that will match your taste. It may take a little work to find it, but the end result will be worth it. You can also customize your own seating to match your preferences by choosing the color, materials, and features that you want.
Seating Comfort Importance
Comfort is a crucial factor to consider when choosing home theater seating. No one wants to spend hours in an uncomfortable seat during a movie. Unfortunately, comfort can be difficult to determine when buying online.
If possible, try to test the seats before buying. Some companies have showrooms, and you can also try finding local distributors that have the product you are looking for. Alternatively, you can use brick-and-mortar stores as testing grounds and then order online for a better price. Make sure to check if the local store would price match.
Another option to ensure comfort is to look for a "no questions asked" return policy. Many companies are now offering this option, allowing you to try expensive furniture with a full refund guarantee if you don't like it. If you can't test the products in person, this should be your next choice.
When choosing home theater seating, it's important to consider not only your own comfort but also that of your guests and other movie-watchers. If there are a lot of children involved, adult-sized individual recliners may not be the best option. If you expect a lot of couples, love seats or collapsible armchairs make cuddling easier.
Comfort is a very personal matter, what works best for you may not work for someone else. The best thing you can do is to think through how your home theater will be used and by whom. Take into account the needs and preferences of all the people who will be using the space and try to find seating options that will accommodate everyone's comfort level.
In-Home Theater Seating Quality
Quality matters when choosing home theater seating. It's important to make sure you have a chair that looks and feels great, but also that it is durable. After investing time and energy into researching the perfect seating option, it would be disappointing if the product falls apart or fails after a few months.
To ensure your investment lasts and you get the quality you're paying for, there are several things you can do. One is to research the brand and check customer reviews. Look for brands with a good reputation for producing high-quality products. Check for certifications such as UL, CE, or ISO and look for a warranty, that will give you peace of mind that you are protected in case something goes wrong. Also, you can consider purchasing from a reputable dealer or store, as they are more likely to sell products that meet certain quality standards.
It's Crucial To Read Reviews
Unfortunately, poor quality can be hard to detect when shopping for products, especially when buying online. This is why it's important to read product reviews. A product may look comfortable, but it might not be comfortable. You might find out that the USB charging ports you paid extra for stop working after a few months.
Nothing is made perfectly, but thanks to the internet, we can learn from each other's experiences and help others avoid poor purchases. It's a good idea to read reviews from multiple different sources when possible. Some companies write fake reviews on their own websites and pay for reviews on others. Therefore, it's always a good idea to check as many sources as you can find. This will help you get a better understanding of the product's quality, durability, and reliability, before making a purchase.
Check Return Policies
Another way to protect yourself from a poor purchase is by ensuring the return policy is fair. It's important to do your due diligence, as many return policies have exceptions. For example, if you measured your room incorrectly and can't fit all your furniture, you might be out of luck.
It's important to carefully read and understand the return policy before making a purchase. Most reputable companies will have a return policy that covers manufacturer defects that present themselves after a year of regular use. Compare return policies from different vendors, as some distributors might have extended warranty options. This will give you peace of mind that you are protected in case you are not satisfied with your purchase.
To Sum Up – In-Home Theater Seating
Creating a comfortable and visually appealing home theater can be a great way to entertain family and friends. By taking the time to plan and research before making a purchase, you can create a wonderful experience for yourself and others who get to enjoy your home theater.
One important aspect to consider is the distance between the screen and the seating. This can greatly impact the overall viewing experience. To learn more about this topic, you can check out our article on how far or close you should sit to a home theater screen. This will help you make an informed decision and create the perfect setup for your home theater.
READ MORE: