To get the best out of your speaker system, you need acoustic panels. Deciding between making your own or buying them ready-made can be tough. One factor to consider is panel size.
The size and shape of a room can affect how well acoustic panels work, but a good rule is to cover about 20% of the wall with panels that are 2ft by 4ft and at least 2in thick.
There's a lot to consider when it comes to panel size. How do you know what 20% of your wall is? Can you use panels thinner than 2 inches? To learn more about how acoustic panels work and how effective they can be, check out our other articles. For now, let's talk about panel size and how to distribute them based on your room's details.
Standard Sizes of Acoustic Panels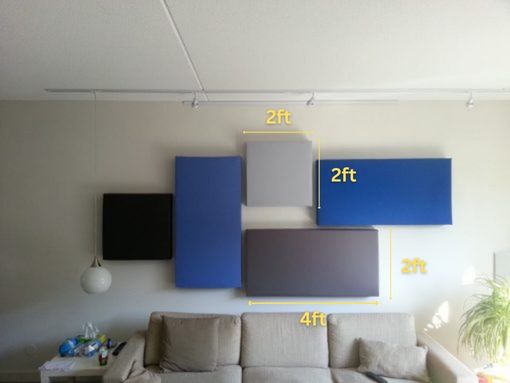 There are standards for acoustic panel size, but you can build custom panels or special order them in any size. Panel thickness is also important.
Height/Width
Acoustic panel sizes vary. Many 2ft-by-4ft panels like the ATS Acoustic Panel (on Amazon) offer good value for wall coverage.
Smaller options like DEKIRU Acoustic Foam Panels (on Amazon) are also available. These 1-foot-square panels offer more flexibility if you have many speakers in the space. Check out our article on acoustic panels vs. foam if you're deciding between them.
Get 2x4ft panels to cover the most surface area with a few smaller panels for irregularly shaped walls. If you build your own panels, you can set the size you need. Reference our guides on insulation and fabric covering if you're making your own panels.
Thickness
Panel thickness depends on the type of sound you need to treat in your room. Deeper wavelength sounds need thicker panels, but placement matters too. Bass traps go in corners, while panels go on walls and/or ceilings.
Wall panels usually address higher frequency sounds like movie dialogue or music with female vocals. These panels are usually 2 inches deep and work well.
If you have one or more subwoofers, you'll need thicker panels to capture longer wavelength sounds. This is important if you're using panels in a home theater system.
Bass traps can be over 2 inches thick, and at their deepest point, they can be over a foot deep. They are usually triangular and go in corners.
Factors to Consider When Determining the Size of Acoustic Panels
To size acoustic panels, consider your room's size and shape, and the purpose of your home theater setup. Wall space availability is a key factor, especially in determining panel size.
Room Size and Shape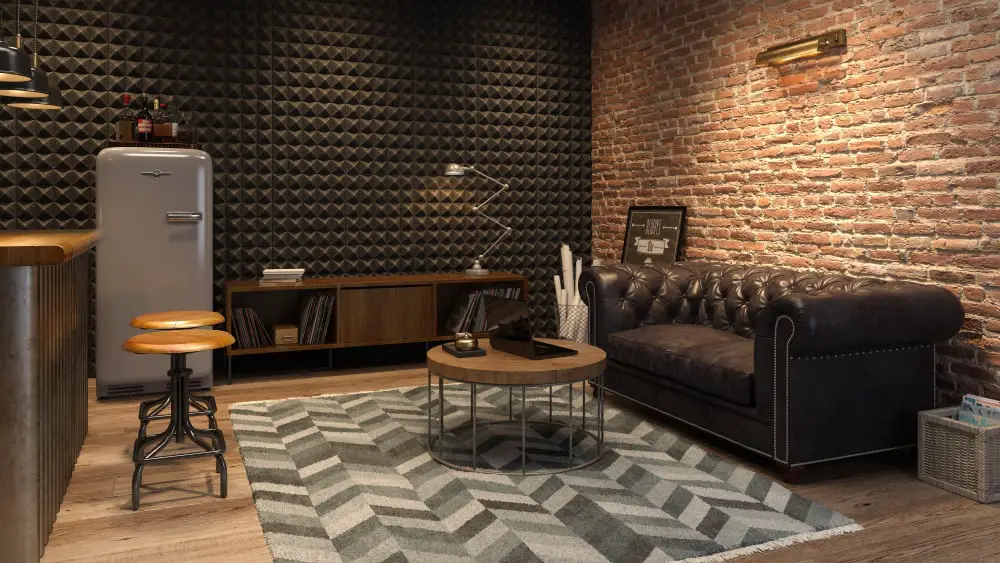 The size and shape of a room can affect the effectiveness of acoustic panels. Irregularly shaped rooms, sloped ceilings, light fixtures, and other obstacles like furniture or artwork can complicate panel placement.
In a square or rectangular room, place acoustic panels on the front, back, and sides of the room. Cover every wall except the one with the screen with at least three panels. If you have a subwoofer, put a bass trap in a corner.
For long rooms, high ceilings, or open concepts, you may not be able to cover every wall. Focus on obvious surfaces opposite the speakers, and try to use ceiling panels if possible.
Think about how flat surfaces in the room can reflect sound. Even if you can't get a panel across from the speaker, placing panels on flat surfaces will help.
Put panels across from speakers and add more if needed.
Purpose of the Room
Consider the purpose of the room when deciding on acoustic panels.
For a home theater system, put at least a couple panels across from all speakers. Add a bass trap if desired.
For a full home theater effect with multiple subwoofers and Dolby Atmos sound, consider adding more acoustic panels.
For a full home theater experience, add a bass trap and ceiling panels. Ceiling panels can be cut to fit around lights without reducing effectiveness.
To acoustically treat a room for sound recording or music production, you need to cover as much of the walls as possible with sound absorption panels. This is different from the 20% rule of thumb for home theaters. When recording sound or making music, you need to control the sound in the room as much as possible. Therefore, you need to cover as much of the walls as you can.
The size of your acoustic panels depends on the size of your room. A general rule of thumb is to cover about 20% of your wall's surface area with panels that are 2 feet by 4 feet and at least 2 inches thick. However, the shape and purpose of the room should also be taken into account. For example, if you're using the room for recording or music production, you may want to aim for closer to 100% coverage. Consider the size and placement of your panels based on the size and shape of your room and the purpose of the space.
Available Wall Space
The number of panels you can hang is limited by the amount of wall space available. This is a good thing because less wall means less surface for sound to bounce off of.
However, if you can't use a panel because there is a picture on the wall, this is a problem. The picture will still reflect sound as a flat surface, limiting your ability to properly treat the room acoustically.
Consider how much wall space is available and how much you are willing to give up for acoustic panels. Remember that you cannot mount anything on top of them.
Another option is to mount acoustic panels on the ceiling to increase the amount of treatment in the space. However, these panels serve a different purpose as they are not directly across from any speakers. As a result, they will not be as effective at sound absorption.
If furniture and decorations block available wall space for panels, you may not be able to fit more panels in the space. In this case, you may still be able to fit a bass trap. However, without moving the speakers to aim at open wall spaces, it may not be possible to significantly improve sound quality in the space.
Do Larger Acoustic Panels Absorb More Sound?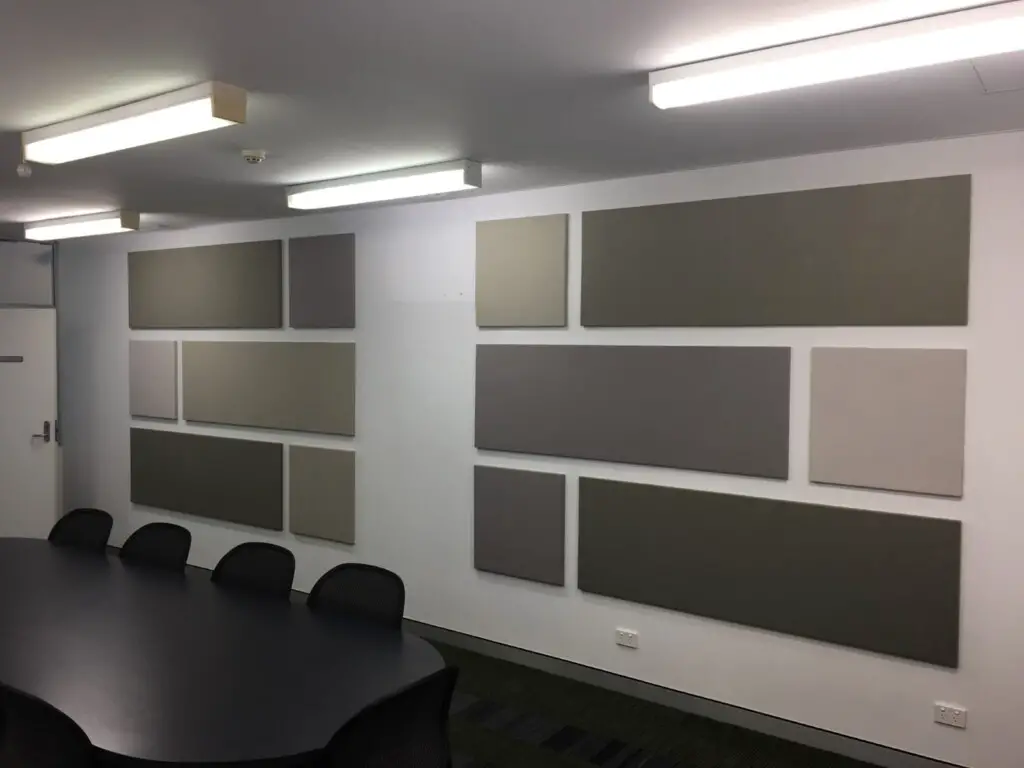 Larger acoustic panels are more effective at sound absorption. This is because they have more sound-absorbing material and more space for sound waves to get trapped in. Acoustic panels work by trapping sound within them, allowing the sound waves in but not letting them out. The deeper the panel, the more space there is for sound to get trapped and be absorbed.
The surface area of the panel also affects its ability to absorb sound. A 1ft by 4ft panel that is 1in thick will absorb less sound than a 1ft by 4ft panel that is 2in thick. However, a 2ft by 4ft panel that is 2in thick will be more effective at absorbing sound than either of these panels.
To ensure that your insulation is effective, it's important to use panels that are at least 2 inches thick. This way, you can add more panels to increase the surface area and get the most out of your insulation. If you start with thinner panels, you may end up having to replace them with thicker ones later on. On the other hand, if you begin with a decent thickness, you can simply add more panels as needed without having to replace the ones you already have. This allows you to "scale up" the insulation in your room without having to go through the process of replacing panels.
Q&A To Sum Up
What is the ideal size for acoustic panels in a home theater?
The ideal size for acoustic panels in a home theater will depend on the size of the room and the desired level of sound absorption. In general, larger panels will provide more sound absorption, but it's also important to consider the placement of the panels. It's often best to use a combination of different sizes and types of panels to achieve the desired acoustical effect.
Can I use too many acoustic panels in a home theater?
It is possible to use too many acoustic panels in a home theater, as this can result in an overly "dead" sound. This can make the space feel too quiet or lifeless, and can affect the overall sound quality. It's generally best to use enough panels to address any major acoustical issues, but not so many that the room becomes too heavily treated.
How do I calculate how many acoustic panels I need for my home theater?
There are a few different methods you can use to calculate the number of acoustic panels you need for your home theater. One method is to measure the dimensions of the room (length, width, and height) and use an online calculator or a formula to determine the total square footage of the walls and ceiling. You can then use guidelines from the manufacturer or an acoustical engineer to determine how many panels you need based on the square footage of the space.
How do I choose the right material for my acoustic panels?
There are a few different materials that can be used to make acoustic panels, including foam, fiberglass, and mineral wool. Each material has its own unique properties and benefits, so it's important to choose the right one for your needs. Foam panels are generally the most affordable option, but they may not be as effective at absorbing higher frequencies. Fiberglass panels are more effective at absorbing a wider range of frequencies, but they can be more expensive. Mineral wool panels are a good middle ground, offering good absorption across a wide range of frequencies at a moderate price point.
Can I use acoustic panels in a room with a fireplace?
It is generally safe to use acoustic panels in a room with a fireplace, as long as the panels are properly installed and do not come into contact with the flames. However, it's important to keep the panels a safe distance away from the fireplace and to follow any additional safety precautions recommended by the manufacturer. In addition, you should ensure that the panels do not block or obstruct the chimney or venting system, as this can create a fire hazard. If you have any concerns about using acoustic panels in a room with a fireplace, it's a good idea to consult with an expert or the manufacturer.
Conclusion
To decide the size of your acoustic panels, you need to consider both the surface area and thickness. Aim for a surface area of at least 20%. Also, choose a panel thickness that will be effective in improving the acoustics of your space. These factors are important in ensuring that your panels can effectively absorb sound and improve the acoustics of your room.
Your room's unique layout may pose some limitations, but if you consider the purpose of the room and your goals for it, figuring out where to begin with acoustic panels should be easy. Just keep in mind the factors that will help the panels effectively absorb sound and improve the acoustics of your space.
Other Articles