Do you enjoy the outdoors and want to watch TV outside? If you're thinking about adding a TV to your outdoor space, you might wonder if an outdoor TV cabinet or an outdoor TV is better. In this article, we will compare Outdoor TV vs Outdoor TV Cabinet…
An outdoor TV cabinet protects your TV while it's outdoors, but some styles aren't weatherproof. An outdoor TV is made to be outdoors and is weatherproof. It doesn't need an extra enclosure.
When deciding, choose the option that will last the longest when outside in elements like humidity, heat, rain, and snow. Technology and weather don't mix well.
Outdoor TV Cabinet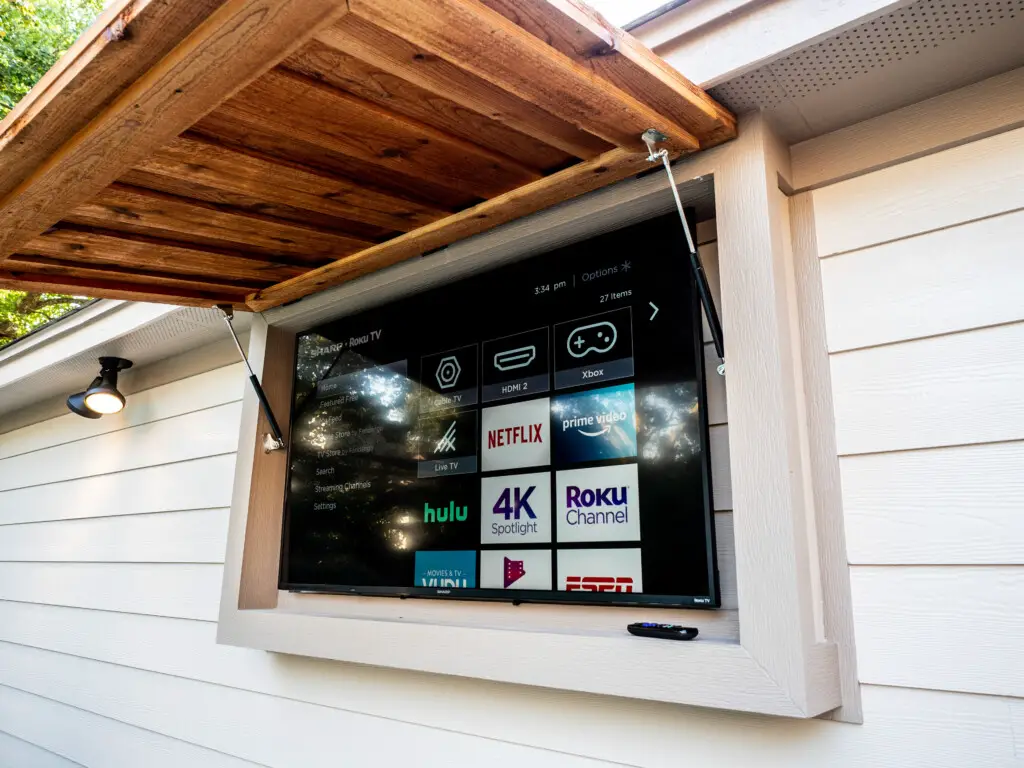 Outdoor TV cabinets are a good choice for adding a TV to your outdoor space. If you want to move a TV from your home outside, you just need to buy a TV cabinet. This is a cost-effective option.
Most outdoor TV cabinets are weatherproof enclosures that protect your TV while it's outdoors. Some are traditional wood cabinets that focus on design, not performance.
Traditional outdoor TV cabinets add style to your outdoor space, but they might not protect your TV as well as a weatherproof TV cabinet.
Outdoor TV cabinets come in many prices, styles, materials, and functions. They usually cost less than outdoor TVs. You might find it hard to find them on Amazon, but companies like American TV Lift have them.
Pros
There are many advantages to using an outdoor TV cabinet for a regular TV instead of an outdoor TV. They are budget-friendly, weather and impact resistant, and can lock. There are many styles available.
Waterproof: Many outdoor TV cabinets and enclosures protect against water and humidity. They have enough ventilation to keep the TV safe, while also keeping water out.
Budget-Friendly: The best part of an outdoor TV cabinet is that it's budget-friendly. You can use a TV you already own to save money.
Outdoor TV cabinets also have a wide range of prices. The cost depends on protection, materials, and features.
Protects TV and Screen from Impacts: Outdoor TV cabinets provide extra protection for your TV beyond weather. They also protect the TV and screen from impact.
Nature can be unpredictable. A storm might bring debris, or an animal might try to damage your TV. An outdoor TV cabinet gives extra peace of mind that your TV is safe from harm.
Lockable: If you're considering a TV on a porch or other area that can be accessed by others, think about how to protect your TV from thieves if your outdoor space isn't locked.
Many outdoor TV cabinets can be locked to prevent break-ins. While a robbery may not be likely, this feature is useful if it does happen. If theft is a concern, this can be a valuable feature.
Comes in Many Available Styles: There are many outdoor TV cabinets available. No matter your needs or priorities, you can find a good option.
Outdoor TV cabinets come in different materials and have various features. Some have an articulating mount and some have a fixed mount. Some look like traditional wood cabinets, and some are clear enclosures.
Cons
Outdoor TV cabinets are good for outdoor living spaces, but they might not protect your TV from the elements.
Some Styles Offer Little Protection: Traditional outdoor TV cabinets may not offer enough protection. Make sure the outdoor TV cabinet you buy or build provides the right amount of protection to keep your TV safe outdoors.
Porous materials like wood can let moisture in and damage the TV if not sealed well. To prevent moisture damage, buy a waterproof outdoor TV cover like the Garnetics Outdoor TV Cover (on Amazon) that goes around your TV and zips up.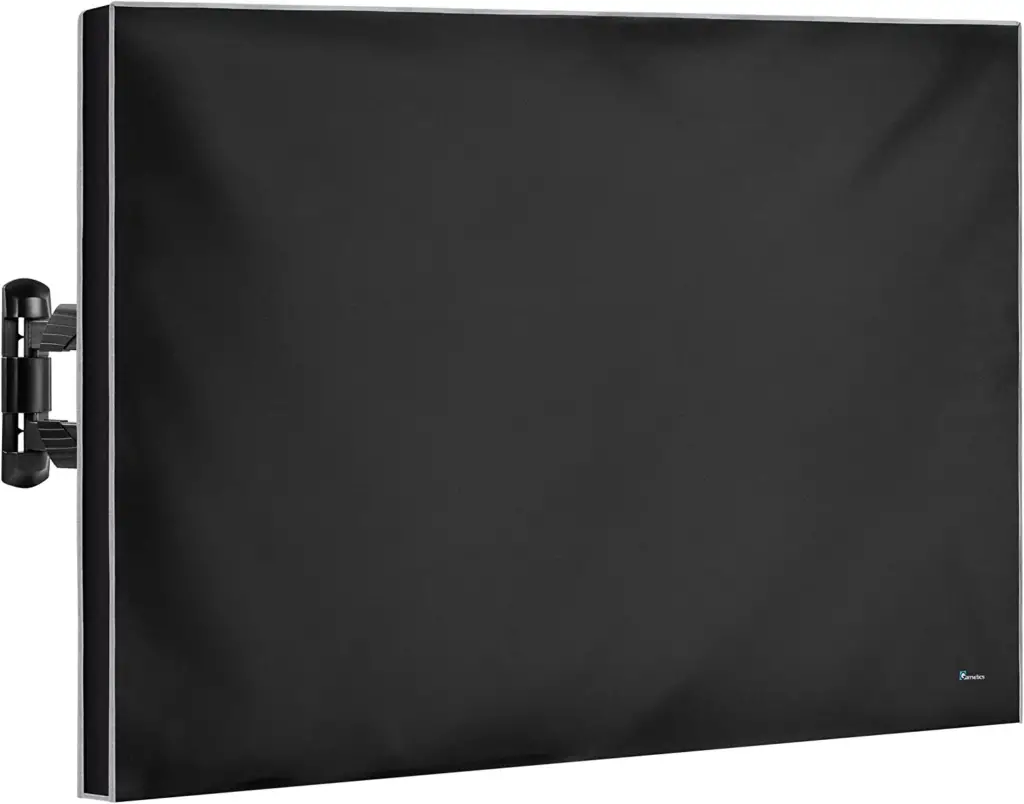 An outdoor TV enclosure that works as both a cabinet and weatherproof shield is your best bet for full protection from harm.
Outdoor TV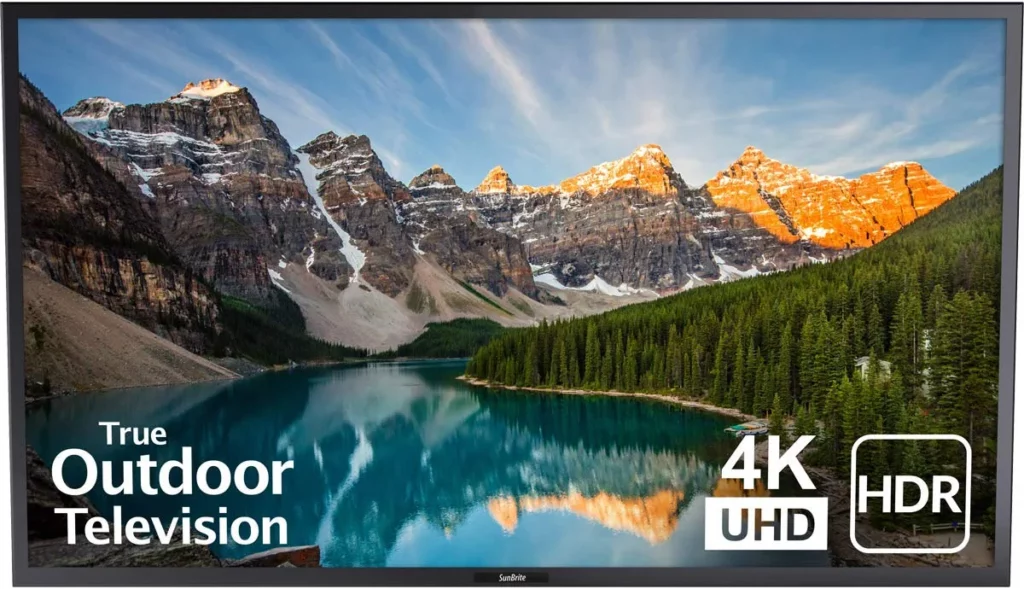 If you spend a lot of time outdoors, you might consider an outdoor TV like the SunBrite 55-Inch Veranda (on Amazon). Outdoor TVs are made for outdoor use and give you peace of mind that your TV is designed to be outside.
Typical TV manufacturers don't make outdoor TVs. You won't find them from VIZIO, Sony, LG, etc. Instead, you'll find them from SunBriteTV, a company that specializes in outdoor TVs.
Outdoor TVs have a high price, but might be a good investment.
Pros
Outdoor TVs are waterproof, weatherproof, and temperature resistant. They work in extreme conditions and look good.
Contains Waterproof Casing: Like a waterproof outdoor TV cabinet/enclosure, an outdoor TV has its own waterproof casing. It doesn't need an extra enclosure to protect it from elements. It has everything you need to protect your TV from water and moisture.
Can Withstand the Elements: Outdoor TV manufacturers like SunBriteTV say their TVs can handle all outdoor elements, even extreme weather. SunBriteTV claims their TVs can survive almost any North American climate, and resist extreme temperatures, grime, and wildlife.
Has a Clean Look: A TV outside can be great, but will a bulky cabinet distract you? An outdoor TV will keep your eyes free from distraction because it can live outside without an extra cabinet.
An outdoor TV doesn't need stands or cabinets that take up space and change the vibe. It looks and operates great on its own.
Designed for Outdoor Performance: Outdoor TVs are engineered for optimal viewing anytime, so they have a brighter, anti-glare screen for better outdoor viewing.
Outdoor TVs have built-in technology that prevents shutdown in hot temperatures, like when a smartphone overheats outside. Outdoor TVs can work in extreme temperatures, unlike most technology.
Cons
Outdoor TVs are very expensive because they have technology to perform well outdoors and can handle more sun exposure.
Expensive: The main issue with outdoor TVs is cost. They are much more expensive than other TVs. You don't get the same value for the visual technology or TV size compared to typical TVs.
The cheapest SunBriteTV outdoor TV model is a 43-inch 4K TV at almost $1500. You pay mostly for waterproofing and weatherproofing, so the TV works well outside in any condition.
Specific Styles/Pricing for Amount of Sun: SunbriteTV's outdoor TVs have a wide range of prices and cost more if exposed to more sun. Some styles have custom technology to keep the TV working optimally in extreme temperatures and conditions.
SunbriteTV's lowest outdoor TV prices can only go in the shade. Full sun TVs cost at least double with extra technology, and partial shade TVs cost at least $1000 more.
It's hard to justify the extra cost, but it's nice to know your TV can work in extreme temperatures, because technology and extreme temperatures can be dangerous.
Final Word
It's easy to see why people buy outdoor TVs. They may seem expensive, but when you consider the outdoor-focused technology, they're a good choice for an outdoor TV setup.
If you'll use your TV outside all the time, it might be helpful to buy an outdoor TV that works in any weather or temperature. If you plan to buy a separate TV for your outdoor area, instead of using one you already have, it may be a good idea to just buy an outdoor TV, since you'll be paying for both an enclosure and a TV otherwise.
An outdoor TV cabinet is more budget-friendly and is a good choice if you're moving a current TV outside. Just make sure it's as weatherproof and waterproof as possible.
For traditional TV cabinets, consider adding a weatherproof cover for a small extra cost. Weatherproof TV enclosures are a good option on their own.
For more about Television read here
Other Articles